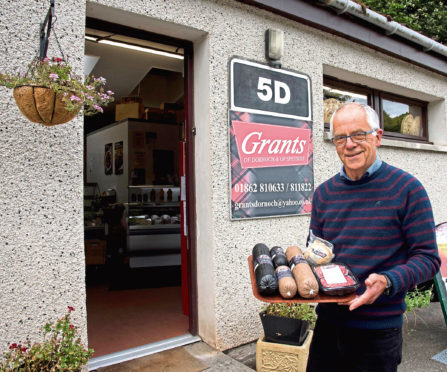 Each week, we ask small businesses key questions. Here we speak to Stuart Grant, who runs Grants of Speyside and Grants of Dornoch with his wife, Marjory.
How and why did you start in business?
Grants has been in the meat trade since the early 19th Century, when John Grant, a crofter, started slaughtering his own cattle and sheep and selling them to other crofters.
He moved to Dornoch and opened a butcher's shop and so what became Grants of Dornoch began.
Four generations later the business was run by my father. He had a reputation for providing top quality meat.
I worked in the business in school holidays and then went off to college, after which I had to decide what to do for a living. The family business won and, in 1972 I joined the firm full-time.
I was put through a heavy induction programme and had to learn everything there is to know about buying, selling, practical butchery skills and administration.
What I enjoyed most was going round farms buying livestock and negotiating prices with farmers.
How did you get to where you are today?
I took over from my father when he retired, and I loved it. However, life gradually became harder.
Demand slowed as oil rig fabrication yards cut workforces and closed and abattoirs faced new legislation and increased costs. The business went into receivership in 1994.
While clearly upsetting, I knew I had a future in meat and just had to find the right opportunity. Someone I knew in Grantown was moving to new premises and asked if I was interested in taking over his lease.
After some agonising I decided to take him up on it and, in January 1996, Grants of Speyside was born.
As a wholesaler we supply hotels, restaurants, cafes, outdoor caterers and retailers throughout Scotland with beef, lamb, pork, Cairngorm venison, poultry, sausages, burgers, haggis and our renowned Grants black pudding, made to a secret recipe devised by John Grant's wife, Jessie, more than 190 years ago.
We also have a factory shop in Grantown and our connection to Dornoch and the Grants of Dornoch name continues with a shop there run by my wife, Marjory.
Who helped you?
Government grant assistance helped us meet the building and equipment costs.
Loyal support from long-standing customers has also been very important, but the support of family and friends during difficult times has been the biggest help of all.
We have recently joined the Federation of Small Businesses and the help and advice it has provided has proved very useful.
What has been your biggest mistake?
There have been lots of silly little things but nothing major.
Getting bogged down in work and forgetting to collect the kids from school when Marjory was away for the day was one domestic low-point. The three of them turned up soaking wet and shivering at my office door.
What is your greatest achievement?
Spreading the word about our traditional haggis and black puddings.
They are great products and have a really strong and loyal following locally. I'm delighted they are now gaining a national reputation for excellence.
If you were in power in government, what would you change?
Do our governments really need so many lawyers and do we really need so many public agencies doing roughly the same thing?
What do you still hope to achieve?
To gain more national and international recognition for our products.
What do you do to relax?
Anything energetic outdoors – cycling, running, hillwalking – and we just spent a very relaxing and highly enjoyable weekend at Belladrum.
What are you reading, listening to or glued to on the TV?
I like to listen to different kinds of music, particularly blues and bluegrass and I love watching sport on TV.
What do you waste your money on?
I'm a careful man and I never waste it.
How would your friends describe you?
No idea and maybe I don't want to know.
What would your enemies say about you?
That it's not fair, their products aren't as good as Grants of Speyside's and Grants of Dornoch's.
What do you drive and dream of driving?
I drive a Mercedes and would love a motorhome.