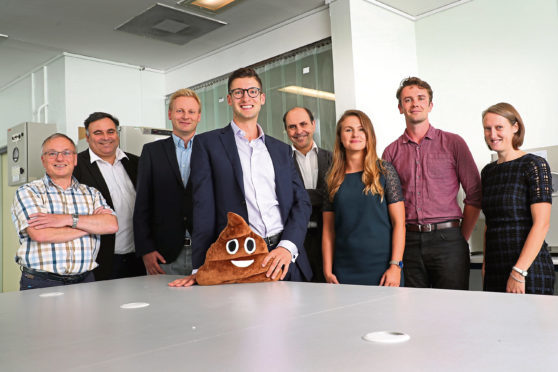 An Aberdeen biotechnology firm has become one of the first in the world to be granted a licence to collect, process and manufacture potentially lifesaving gut microbes for faecal transplants.
Then-medical student James McIlroy launched EnteroBiotix to develop the process which implants intestinal faecal bacteria and yeasts from a healthy donor into someone who lacks the essential microflora they need for their gut to function properly.
Faecal Microbiota Transplantation (FMT) is largely inaccessible and expensive, so for EnteroBiotix the goal has been to develop an orally delivered treatment.
The firm's new MicrobeDS therapy removes the need for the invasive medical procedures currently used to administer FMT, while also simplifying the design of placebo-controlled clinical trials.
The firm has now been granted a manufacturers "specials" license from the Medicines and Healthcare Products Regulatory Agency (MHRA) to further its therapeutic and product pipeline.
EnteroBiotix has also appointed senior biotechnology executive Dr James Clark as its chief executive, with founder Dr McIIroy moving to the role of chief business officer in order to support the new CEO and accommodate NHS hospital requirements to complete his medical training as a clinician.
Dr Clark brings more than 20 years of biotechnology and biopharmaceutical drug discovery, development and commercialisation experience to EnteroBiotix. Previous roles have included chief technical officer at Enterome, one of Europe's leading microbiome companies, and most recently vice-president of clinical laboratory operations at Inivata, the global clinical cancer genomics group.
Dr McIlroy said: "We are absolutely thrilled to welcome James Clark to the team at this critical point for the business.
"With the MHRA approval under our belt, we are well positioned to make an outsized impact in this exciting field of science and medicine. I am grateful to our board and shareholders for allowing me to continue my NHS medical training alongside my continuing role at EnteroBiotix."
Dr Clark added: "EnteroBiotix is one the most exciting early stage biopharmaceutical startups in the UK, and is attracting significant investor interest. I look forward to working with James and the rest of the team as we enter the next phase of growth."
Headquartered in Aberdeen, EnteroBiotix has raised more than £2 million in equity investment and non-dilutive funding with a dedicated core team supported by an independent Scientific and Medical Advisory Board.