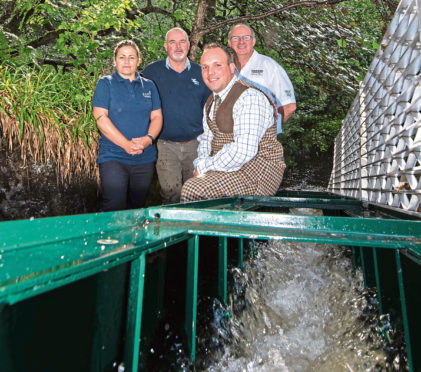 For the first time in more than 100 years, a team of fisheries experts has teamed up with a Speyside whisky distillery to offer a helping hand to migrating fish.
Biologists from the Spey Fishery Board and the Scottish Environment Protection Agency (SEPA) have joined forces with Tamdhu to build one of the UK's longest and highest fish passes on the doorstep of the distillery.
The 14ft-high, 52ft-long man-made construction is now allowing salmon and sea trout to breed in the Knockando Burn, inaccessible since Victorian times.
When the Tamdhu distillery was built 120 years ago, a dam was constructed on the neighbouring river to allow easy access to the water for the whisky-making process.
Experts say installing the new Tamdhu Fish Pass is the most practical way to help sea trout and salmon move upstream to breed.
A special fish counter and camera on the fish pass will also enable the team to record and monitor fish numbers and activity.
Tamdhu Distillery manager, Sandy McIntyre, helped lead the Tamdhu fish pass project. He said: "We're excited to be working in partnership on this essential environmental project at the Tamdhu Distillery, which will see fish return to this section of the Knockando Burn.
"Water from the river has been used in the Tamdhu production process since we were established in 1897, so we're proud to be giving something back."
SEPA said it was improving the River Spey and Knockando Burn for wildlife by implementing new river basin management plans.
The target date for reopening this section of the burn to fish was 2027 but the Tamdhu Fish Pass Project has allowed this to be completed nine years early.
Lisa Forsyth, from SEPA's North Grampian and Speyside team, said: "The Tamdhu Fish Pass Project is a great example of an operator taking voluntary action and working in partnership to help improve the status of a waterbody.
We hope this will see salmon and sea trout return to a significant stretch of the burn soon."