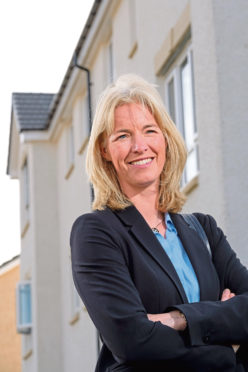 LAR Housing Trust said yesterday it was nearing completion of another development in Aberdeen, its seventh in the city.
The housing charity, which aims to provide mid-market rental homes across Scotland, identified the north-east as one of the areas most in need of its services when it launched three years ago.
Its latest project at Balgownie, Bridge of Don, brings the total number of LAR homes in the Granite City to 142.
Ann Leslie, the trust's Aberdonian chief executive, said: "I am delighted once again to be working with major housebuilders in the Aberdeen area.
"We now have more sites in the north-east than anywhere else.
"The development at Balgownie will be ready by the end of November and we are actively looking for tenants. These are high-quality homes at mid-market rents and are sure to be extremely popular."
LAR, which stands for local affordable rent, has taken nine properties at the development consisting of six two-bedroom and three one-bedroom flats.
Balgownie follows recent deals at Ocean Apartments in Park Road, Aberdeen, and Shaw Road in the city's west end.
Mrs Leslie added: "We are still looking for more quality homes in Aberdeen and would be interested in speaking to developers and construction companies who might have suitable properties for us."
Dunfermline-based LAR launched in October 2015, with a £55 million loan from the Scottish Government.
The trust has since leveraged a further £65m of private finance, in a deal arranged by Bank of Scotland Commercial Real Estate through its partnership with Scottish Widows, to help it achieve a target for 1,000 homes across Scotland at mid-market rents.
In total, LAR now has 24 sites either completed or under construction across Scotland in a portfolio comprising more than 600 homes.
The group offers properties to people who either cannot afford private sector rents or who are unlikely to be able to access social housing.
Its CEO trained as a lawyer and was a partner at MacRoberts for five years.
She later joined the Scottish Futures Trust (SFT) – after a career break to raise children – as an associate director and was part of the SFT team that came up with the business plan for LAR, which is widely credited for helping tackle a national housing crisis.
Many people are caught in a trap of not having a realistic chance of accessing social housing, or being unable to afford the rents charged in the private sector.
The Scottish Government has a target of delivering at least 50,000 affordable homes by 2021, with about 35,000 being made available for social rent.
A total of 19,428 homes boosted the affordable housing supply across the country during the 2017-18 tax year, which was the fifth consecutive yearly increase and the highest annual figure since 2008-09.