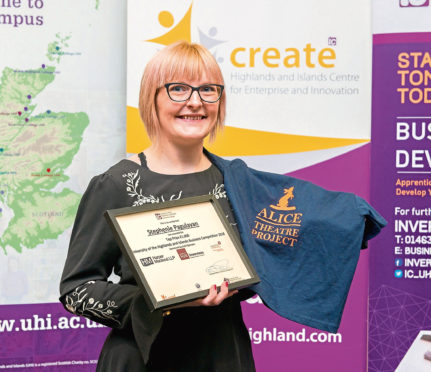 A student who launched a social enterprise offering theatre classes for primary school children in Shetland has taken the top award at this year's University of the Highlands and Islands (UHI) Business Competition.
Stephanie Pagulayan, from Lerwick, was presented with £1,000 and a legal and accountancy package at the awards ceremony in Inverness.
Ms Pagulayan plans to expand her Alice Theatre Project business on mainland Shetland and explore opportunities in Orkney.
The competition, run by Inverness College UHI's Create Centre for Enterprise and Innovation, attracted 110 entries across 10 categories, with a total prize pot of £6,500.
Carol Langston, head of entrepreneurship at Inverness College UHI, said: "We are continually overwhelmed by the high number of quality entries we receive from across the Highlands and islands.
"At Inverness College UHI we work with students to encourage them to be innovative, creative and think outside the box.
"I am heartened to see so many wonderful ideas, particularly from an engineering perspective.
"I know the judges were very impressed with the pitches this year and the quality of ideas."