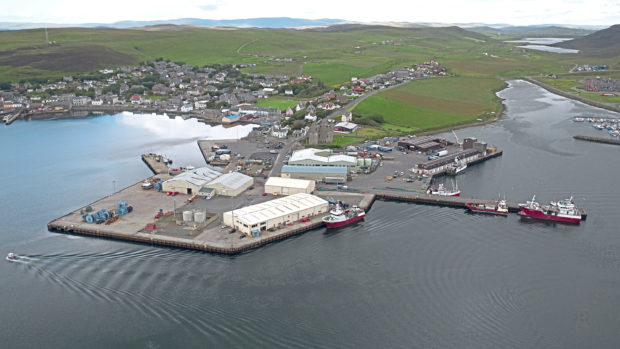 Work is due to start on a new £5.6 million fish market in Scalloway, Shetland, next week.
The clearance and demolition phase coincides with fresh evidence of healthy stocks around the islands.
Scalloway has seen an increase in the volume of fish landed and its new market is expected to deliver a major boost to the local economy.
Aberdeen-based construction firm Chap Group secured the 16-month contract to build the new facility, which is expected to be ready by March 2020.
The project will see the existing fish market demolished prior to the construction of a steel-framed building housing an auction hall, welfare facilities, chilling equipment and loading bays.
Shetland Islands Council harbour board chairwoman Andrea Manson said: "The upgrade of Scalloway fish market means we will be able to offer greatly-improved facilities to arguably the isles' most significant industry, and I look forward to its completion in spring 2020."
Chap's recent projects include the new fishmarket in Peterhead, which was opened by the Duke of Rothesay in September.
Meanwhile, new survey findings released by NAFC Marine Centre UHI in Scalloway yesterday show the future looks promising for the area's fisheries.
Scientists found record numbers of small haddock and increases in small cod and whiting populations.
More than 50 tows were made in inshore waters by the NAFC research vessel Atlantia II this summer to assess the abundance of juvenile fish from key commercial fish stocks.
The centre has surveyed fish in waters within 12 nautical miles of Shetland and in water depths of up to nearly 500ft every year since 2011.
A small-mesh net is used during the studies so that juvenile fish can be caught.
NAFC said the most notable result of the 2018 survey was the large numbers of small (2018 year-class) haddock.
Numbers were much higher than have been recorded previously over the eight years that the survey has been carried out.
Shaun Fraser, who co-ordinated the study, said: "This is good news as there is the potential for a strong recruitment into the fishery over the next year or two, once the haddock have grown to a marketable size."
Populations of small cod and whiting were also higher than in 2017, while lemon sole showed an increase.
Mr Fraser added: "As we are sampling small fish, which are not retained in commercial gear, we are getting an early indication of which stocks are doing well locally and likely to give increased catches in future years."
Shetland Fishermen's Association executive officer Simon Collins said: "These results are invaluable in providing an independent and scientifically credible picture of the abundance of fish in Shetland's waters.
"The centre's findings come at a time when we are seeing record landings of white-fish in Shetland, and we hope that they herald further increases in landings in the future."