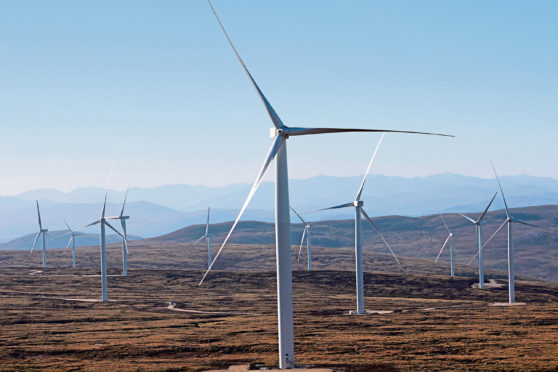 Two Highland wind farms will generate a £635 million cash boost for Scottish energy company SSE after it sells nearly half of its 100% stake in them to a London-based renewables firm.
SSE said yesterday it was selling a a 49.9% holding in its Stronelairg and Dunmaglass wind farms to Greencoat UK Wind, which is backed by investor Greencoat Capital.
Perth-headquartered SSE will use up to £200m of the proceeds to fund a share buy-back programme and the rest to reduce its colossal, investment-driven debt pile, which stood at more than £9.4 billion at the end of September.
The recently commissioned Stronelairg wind farm, near Fort Augustus, has 66 turbines with a total generating capacity of 228 megawatts (MW).
Dunmaglass, with 33 turbines, is 15 miles south of Inverness and has an installed generating capacity of 94MW. It was commissioned in December 2017.
SSE will continue to operate both sites, with Vestas and GE providing turbine operation and maintenance for Stronelairg and Dunmaglass respectively.
The deal, which is expected to complete in late March, is line with SSE's strategy to sell stakes in its onshore and offshore wind farms in order to create value from development and operation, as well as ownership, of assets.
SSE finance director Gregor Alexander said: "Stronelairg and Dunmaglass are a testament to SSE's ability to design, develop, construct and operate first-class renewable energy assets.
"The sale of stakes in these wind farms … is a continuation of SSE's longstanding approach of partnering and securing value for shareholders."