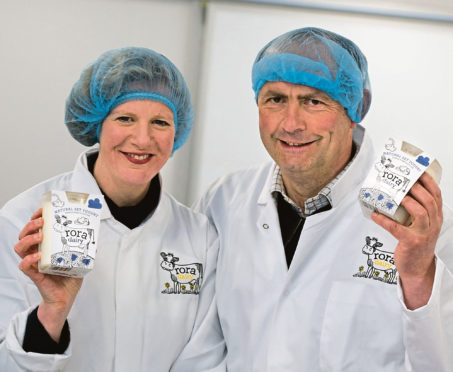 Innovative and growing food and drink businesses from across the north-east had their achievements recognised at the region's prestigious annual food and drink awards last night.
The 2019 North East Scotland Food & Drink Awards included 13 different categories spanning the breadth of the industry.
Internationalisation, inn-ovation and capitalising on links between the food, drink and tourism industry are recognised drivers for long-term sector growth and this was reflected in a high number of entries in categories including; Export Business of the Year, Best Food & Drink Tourism Experience and the Innovation Award.
The winners were announced at a ceremony at Ardoe House Hotel.
Delivered in partnership by Opportunity North East (One) and Aberdeenshire Council, 250 attended the event, which welcomed former BBC journalist, author and nutritionist Amanda Hamilton, as host.
Two local companies were celebrating double wins on the night. Associated Seafoods took home the award for Investing in Skills Development and Export Business of the Year. Meanwhile Most Successful Product from the 2018 Awards and Best Retail Product (small businesses) was scooped by rora dairy.
Best Retail Product, medium sized business went to Summerhouse Drinks – Walter Gregor's Mixers Gift Pack, while the Best Retail Product for large businesses was awarded to Dean's – Steven Brown Art All Butter Shortbread Gift Tins range – Angus McCoo.
Best Brewed Product was awarded to Brew Toon for Craft Beer Range – The Jail Ale (Red Ale) while Best Distilled Product went to Glen Garioch Distillery – Glen Garioch Vintage 2007, Cask 57.
Best Foodservice Product was awarded to Macphie for their Vegan-Certified Cake Mix and Frosting Range – Chocolate and Plain and Esker Spirits was named Best Young Business.
Judges named Christopher Leigh, of John Ross Jr Food & Drink Entrepreneur of the Year and Mackie's of Scotland 19.2 was named Best Food & Drink Tourism Experience.
Forest Farm was handed the Innovation Award for The Organic Dairy – Scotland's 1st Milk Vending Machine.
Pat Machray OBE, Chairman of One's Food, Drink & Agriculture Board, said: "One is working with businesses and partners to drive an ambitious growth agenda in the food and drink sector as part of the long-term economic vision for the regional economy.
"This includes supporting businesses to realise their potential, using market insights to bring new products forward, targeting premium, international markets, and using innovation and digital technology to increase productivity.
"The awards recognise the achievements of businesses across the region's food and drink sector and provide an important vehicle for businesses to get new products in front of influential buyers who participate in the judging.
"Entries were received for 69 new products this year, with 12 businesses entering for the first time, which is encouraging in terms of the potential for the sector to grow and we congratulate all of tonight's winners and finalists."
The food, drink and agriculture sector is a significant part of the region's economy, directly employing more than 22,000 people. Excluding the whisky sector, it contributes an estimated 20% of Scotland's food and drink industry output.
Chair of Aberdeenshire Council's Infrastructure Services Committee, Peter Argyle, said: "It has been very exciting to see the increasing number of products finding their way overseas, as well as the excellent food and drink experiences increasingly being offered for visitors and the range of employment opportunities continually being created by this industry. It is so important to celebrate growth, innovation and success within what is one of our key sectors."