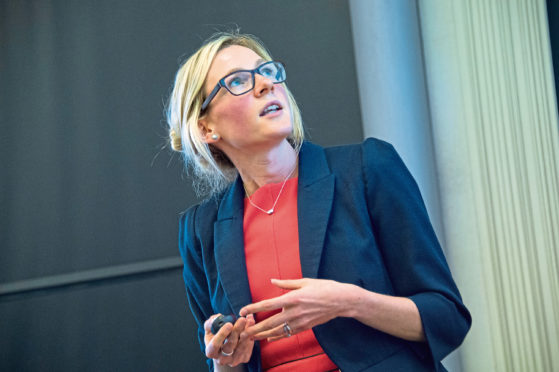 Pharmaceutical firms are lining up to partner an Aberdeen University life sciences team working on new antibodies that could save millions of lives.
Fledgling spin-out company mycoBiologics – comprising chief executive and principle investigator Fiona Rudkin and research scientist Louise Walker, backed by a chairman and a few advisers – has been helped in its mission to tackle deadly fungal infections by the award of a £400,000 grant from Scottish Enterprise (SE).
Finance Secretary Derek Mackay visited the university's Medical Research Council Centre for Medical Mycology yesterday to meet the team behind the innovative research and to find out more about the key role of SE's High Growth Spin-out Programme funding.
Ms Rudkin, a Royal Society of Edinburgh enterprise "fellow", said the cash would help mycoBiologics to "bolster its data package, build the team and secure further investment".
The spin-out has already attracted interest from several pharmaceutical companies keen to help commercialise its products, she added.
Candida and other fungal infections kill more than a million people around the world every year.
Those most at risk include cancer, intensive care unit, surgical and transplant patients – a growing population as more diseases become treatable and survival rates improve.
Globally, the anti-fungal drug market is forecast to be worth more than £10 billion by 2023.
A licensing deal for mycoBiologics' revolutionary new antibodies – still some years away from reaching the market – is expected to be worth around £300 million.
MycoBiologics, which is due to move into a new £40m life sciences innovation "hub" being created at Foresterhill and is targeting a 15-strong workforce by year five, is also developing antibacterial antibodies as an alternative treatment to antibiotics.
This will help to mitigate the growing problem of antibiotic resistance, which has been identified by the World Health Organisation as one of the biggest threats to global health.