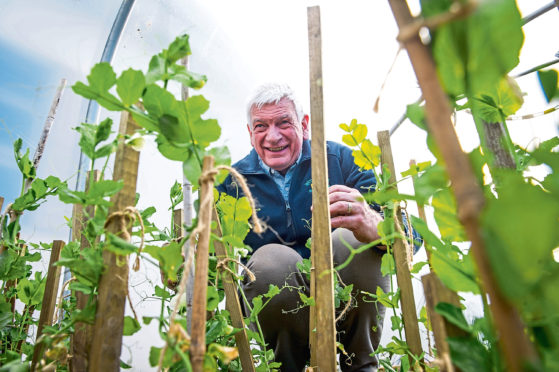 Each week, we ask small firms key questions.
Here we speak to Richard Jones, founder and director of the Farmer Jones Academy in Cawdor, near Nairn.
How and why did you start in business?
After agricultural college I started working on our family dairy farm in Cheshire, quickly realising that livestock were trickier than I had thought.
I also realised that I loved the life and that self-employed was for me.
My father wanted to retire, so I took out a hefty bank loan to buy the farm and stock from him – quite a commitment for a young man in his mid 20s.
How did you get to where you are today?
I worked my way through various political upheavals – everything from the three-day working week to the Thatcher years with their miners' strikes, 17% interest rates and the 1984 milk production quotas – and survived. The recent financial crashes and Brexit are tame by comparison.
In 2000 I sold the farm and moved north to Easter Ross, buying a small estate and growing malting barley and developing a small holiday enterprise.
Then, in 2005, I sold up and started a new career in radio, presenting a daily farming show. The fun part was presenting 60s and 70s music shows.
Farming has given me a lot, but in 2014 I realised that nobody was telling today's school-leavers about the many career paths open to them in the food and drink industry.
Something had to be done so, together with my business colleague Sarah Mackenzie, I founded the Farmer Jones Academy, a not-for-profit community interest company.
Our primary objective is simple – to teach secondary school pupils about where their food comes from and how they can forge careers in the food and drink industry.
Who helped you?
I recognise my own skills limitations and have always looked to advisers for specialist knowledge and help, to trade organisations such as NFU Scotland, the chamber of commerce and First Port Social Enterprise. The help and advice from the Federation of Small Businesses has been invaluable.
What has been your biggest mistake?
I should have listened to others more often and saved myself a lot of time and energy.
What is your greatest achievement?
It's taking the wealth of knowledge and experience that I have gained as a hands-on farmer and farming journalist, and using it to encourage the next generation to see and seize the many opportunities out there.
We all want to leave a legacy and I would love to think some of tomorrow's Highland food and drink entrepreneurs were first inspired by the Farmer Jones Academy.
If you were in power in government, what would you change?
I'd modernise the political system, getting away from the childish shouting matches in Westminster and giving more devolved powers to Holyrood. We also need to get back to a proper food security system in the UK; one less dependent on imports.
What do you still hope to achieve?
Once we have trained our first batch of foundation apprentices I will have achieved what I set out to do, and everything after that is a bonus. On a personal note, I want to spend more time with my five – to date – grandchildren.
What do you do to relax?
I love taking my wife, Susan, to the theatre. Eden Court is great, but we'll also travel to Glasgow, Edinburgh and Aberdeen if the shows are not coming north.
What are you currently reading, listening to or glued to on the TV?
I'm slowly working my way through the latest Richard Branson book – I do admire his "can-do" attitude. I also love listening to good, old-fashioned soul music, and my guilty pleasure is the northern soul and Motown I grew up with.
What do you waste your money on?
I try not to, but I am a soft touch when it comes to the latest hi-tech kit.
How would your friends describe you?
On my birthday one Facebook post said: "Happy birthday to the most decent, lovely person I've had the pleasure to call my best friend." It wasn't written by me.
What would your enemies say about you?
Who wants enemies?
What do you drive and dream of driving?
The answer to both is my Mini Cooper S Countryman, with all the added gizmos. I once had a 1937 Morgan and I'd love another.