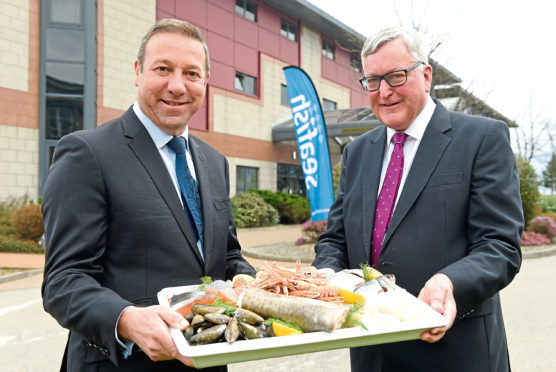 Scottish Fisheries Secretary Fergus Ewing sang the praises of former UK fishing minister George Eustice at a seafood "summit" in Aberdeen yesterday.
Mr Ewing said he had met the new fishing minister, Scarborough and Whitby Conservative MP Robert Goodwill, earlier this week and was confident he could "work with him" too.
Mr Eustice resigned from the UK Government last month, amid the Brexit turmoil, saying the prime minister's decision to allow a vote on delaying article 50 would be "the final humiliation of our country".
His successor for the fishing and farming brief, Mr Goodwill, was at the heart of a row over fishing crew shortages on the west coast of Scotland two years ago, when he was immigration minister.
Delivering his keynote speech at the Scottish Seafood Summit, organised by industry body Seafish, Mr Ewing said: "I met Robert Goodwill on Monday. I can work with him.
"The key thing is to try to take the politics out of the situation – I was able to do that with George Eustice."
Mr Ewing revealed he had thanked the former fishing minister for his work in a conversation with Environment, Food and Rural Affairs Secretary Michael Gove, adding: Not only did we have a constructive relationship, but I think he had a grasp of the complexities of fisheries policy built on several years of experience.
"We worked reasonably well together. Politics were pushed aside for the most part."
Mr Ewing also revealed his frustration that, despite good relations with the UK minister, cross-border solutions to problems were often difficult to achieve and dealing with the Marine Management Organisation – responsible for the seas around England – had "not exactly been a bowl of cherries".
Asked later if the opportunities of Brexit for the seafood industry outweighed any potential adverse impacts, Mr Ewing said advantages that were talked up around the time of the Brexit vote "seem to have shrunk" but the challenges "seem to have grown".
He added: "My job is to help grow the opportunities and try to overcome any challenges".
Seafish chief executive Marcus Coleman said the opportunities for the catch sector were "potentially huge".
Mr Coleman added: "The caveat I would add is that we have to get it right for those who are importing and exporting seafood. Any barriers to trade could be devastating."
The two-day conference in the DoubleTree by Hilton Hotel, on Beach Boulevard, was organised to help seafood firms navigate the practical implications of Brexit, whatever form it takes.
Speakers during yesterday's final sessions included Scottish White Fish Producers' Association chief executive Mike Park, who delivered a catch sector perspective.
Mr Park spelled out the size of the potential prize, highlighted the importance of sustainable stocks and called for UK fisheries policy to have industry "bolted on at every level".