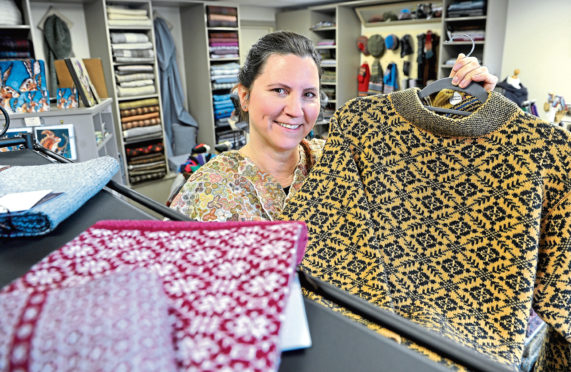 Each week, we ask small businesses key questions.
Here we speak to former New York financier Leslie Foale, who now runs Highland Natural Accents in Portree.
How and why did you start in business?
Born and raised in the north-east US, as a child I dreamt of one day having my own business.
But after earning my bachelors in finance and marketing, and my masters in international business, I opted for safety in New York's financial sector.
It was a fantastic experience. However, in 2015 – for personal reasons – I upped sticks and moved to the Highlands.
In January 2016 a visit to Scotland's Trade Fair in Glasgow revived my passion for textiles, design and creativity.
This awakening became the seed for Highland Natural Accents (HNA), a retail business I established that March, initially in Inverness.
HNA offers textiles for home decor and wardrobe enhancement, and features makers from the Highlands, Islands and beyond.
How did you get to where you are today?
Slowly and methodically.
In the States I exposed myself to as many different cultures, companies and aspects of the financial world as possible in the hope of one day applying the numerous lessons learned to my own business.
Chief among them was don't rush; robust, sustainable businesses are built on solid foundations.
Combining my analytical character, business acumen and love for textiles, I have constructed a strong commercial model and strategy to create and grow Highland Natural Accents.
I make sure the backbone of the company, cash flow, is healthy and continues to strengthen.
Who helped you?
The Federation of Small Businesses – highly recommended by a long-term member, Noel Hill of We Frame It – is a strong resource to make sure legal and other matters are being appropriately addressed without incurring high costs.
Business Gateway is also an excellent resource for small businesses to access training and other support.
Noel has been a major factor in supporting Highland Natural Accents. He has provided me with space, knowledge and the freedom to design and build my business. I couldn't have done it without him.
What has been your biggest mistake?
Product selection can be tricky – it's an evolving process. Our move from Inverness to Portree resulted in a major change in our customer base, which has in turn impacted how we select makers and textiles.
Earlier choices taught me how to make smarter decisions.
What is your greatest achievement?
Transitioning an idea into a textile gallery within three years, which included moving location twice.
My husband and I not killing each other in the process has been an even greater accomplishment.
If you were in power in government, what would you change?
Minds and egos to make sure there are no borders.
What do you still hope to achieve?
To be a support and incentive for other women and entrepreneurs of any age to pursue what comes naturally to them and what they enjoy. You only live once.
What do you do to relax?
Exercise helps relax me physically and mentally. I used to be a competitive rower. Now, given time constraints, I try to fit in a swim, walk or a landscape photography session.
What are you currently reading, listening to or glued to on the TV?
TV is to be avoided. Instead, I will read or listen to the radio or internet or, better still, go outside and watch nature.
What do you waste your money on?
As a financier, I do my best to use money wisely. I spend smartly on calculated risks or on some event that would be a treat, compared with everyday living. The key is to create wonderful memories.
How would your friends describe you?
Determined, driven, diversified, kind and giving.
What would your enemies say about you?
Demanding, opinionated and doesn't suffer fools.
What do you drive and dream of driving?
I am fortunate to drive the safe Volvo SUV. It would be a treat to own two cars – one utilitarian and one sporty.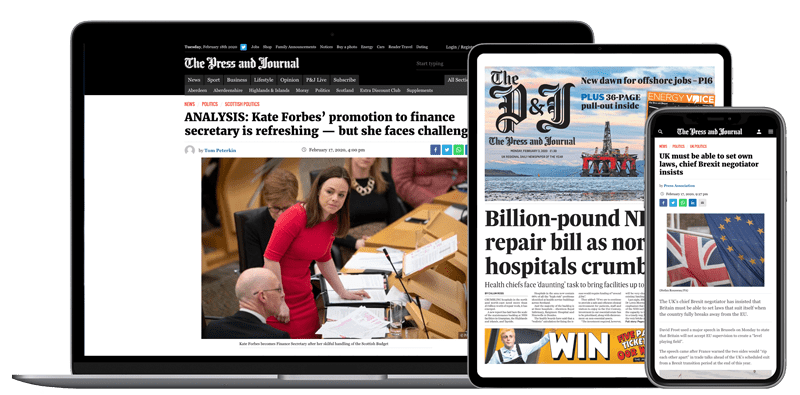 Help support quality local journalism … become a digital subscriber to The Press and Journal
For as little as £5.99 a month you can access all of our content, including Premium articles.
Subscribe