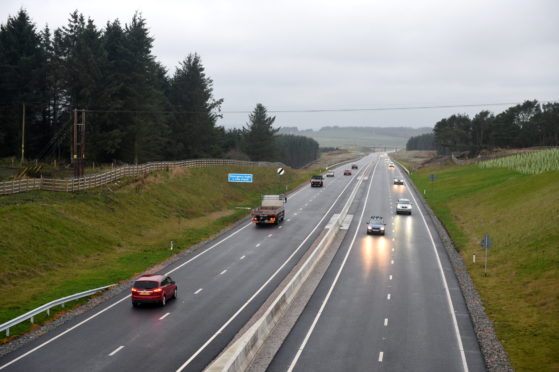 The Aberdeen Western Peripheral Route could create an "arc of property" in towns around the Granite City's borders.
Aberdein Considine has reported increased viewer activity in Stonehaven, Westhill, Dyce and Balmedie following the construction of the £1billion bypass. The road is helping to link places that were more remote and is increasing their desirability, the firm said.
However, it was February this year before the whole length of the AWPR could finally be used by motorists after decades of political – and literal – gridlock.
After weeks of delays before the last remaining section of the 36-mile bypass opened, rush-hour commuters were able to travel all the way from Stonehaven to the north of Bridge of Don.
Many journey times in the north-east have been cut dramatically. For example, a trip from Stonehaven to Inverurie which could easily have taken an hour or more previously via Anderson Drive in Aberdeen can now be completed in around half that time.
There is no doubt the AWPR is giving a much-needed shot in the arm to the north-east. The bypass is expected to generate more than £6bn for the local economy, with an anticipated 14,000 new jobs over 30 years.
The rapid growth of the UK North Sea oil industry led to a massive expansion of traffic in the area. The existing road system was unable to cope and, inevitably, long queues of vehicles became a regular sight in the city.
However, had the powers that be got their act together way back in the 1940s, things might have been so different and the cost could have been just a tiny fraction of today's anticipated £1bn-plus.
The idea for the AWPR first emerged in 1948, but the £1 million price tag was deemed to be too high as the area recovered from the Second World War.
Stonehaven is among the locations expected to benefit from the opening of the bypass.
Aberdein Considine's national estate agency director Alan Cumming said: "In recent months we've been seeing applicants searching a wider area for property, with north and south of the city being strongly considered.
"Stonehaven has long been popular with househunters looking for a slower pace of life near the seaside. But over the years people who work in Dyce and Westhill's industrial estates probably would not have considered the town.
"However, we are definitely seeing that attitude changing and more people are looking at the town as being somewhere that has it all now."
Aberdein Considine is marketing a development called David House in Stonehaven town centre which Mr Cumming said had secured reservations before a brick was laid. However, he added that the full extent of the effects from the bypass would not be known until it has fully bedded in.
He added: "In theory, we should also see areas like Kingswells and Bridge of Don becoming more attractive because of the road.
"Bridge of Don, for example, is going to have much better links to south of the city and the airport."