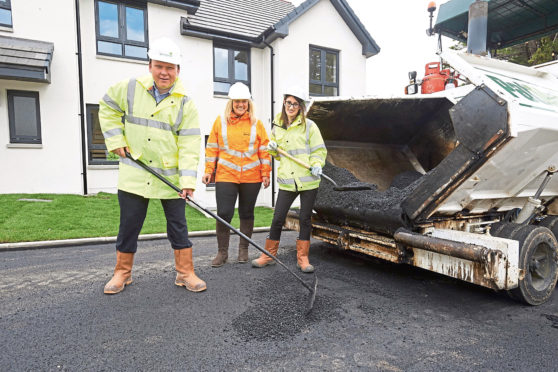 Springfield Properties has claimed a UK first in the housebuilding industry by using waste plastic to build a road at one of its new developments.
Twenty tonnes of recycled material, equivalent to more than 17,000 carrier bags, which would have been destined for landfill sites or incineration, is being used in asphalt for the 60ft-long stretch of roadway in Elgin.
The company, which has its headquarters in the Moray town, said it hopes the pioneering project will lead to it being used at its developments and inspire other firms to follow its lead.
The product used at Springfield's Linkwood Steadings site, is more environmentally friendly than traditional alternatives as it needs less bitumen – a semi-solid form of petroleum.
While it looks like a normal road, the company said the flexible properties of plastic make it stronger and longer lasting.
The housebuilder is working with Lockerbie-based MacRebur, which has developed and patented a way to use waste plastic in roads, and asphalt producer Pat Munro, of Alness.
Springfield's north managing director, Dave Main, said: "The road in Elgin accounts for 20 tonnes of recycled plastic, the equivalent to 17,042 plastic bags or 6,000 plastic bottles, which would otherwise have been consigned to landfill or incineration.MacRebur's plastic roads have been through rigorous tests to meet British and European standards and are up to 60% stronger than our current roads, which should improve driving quality and reduce maintenance costs."
MacRebur turns plastic waste into granules which are mixed with an activator, reducing the bitumen needed in asphalt.