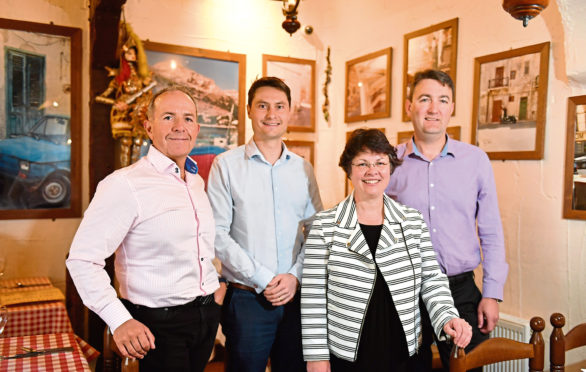 Having entrepreneurial spirit is one thing, but protecting your brilliant idea for a new product or service is equally important for innovative self-starters.
My four guests at Mediterranean restaurant Rustico in Aberdeen all have more than a passing interest in intellectual property (IP) and its role in business success.
For James Brown, patents director in the Aberdeen office of international IP specialist Murgitroyd, it's his daily bread and butter.
Gary McEwan spends his days steering budding entrepreneurs in the right direction, including on how to protect their IP, as chief executive of Aberdeen-based business support social enterprise Elevator.
Tristam Horn, chief executive of Aberdeen-based oil and gas technology company DeltaTek, and Dorothy Burke, managing director of subsea-focused Ecosse IP (EIP), of Banchory, are among the ranks of innovators helping to shape the future of the north-east economy. DeltaTek, EIP and AJ Equestrian are finalists in the Murgitroyd-sponsored innovation category of the 2019 Elevator Awards.
Mr Brown has been based in the north-east for more than two decades, helping businesses to protect their new IP, whether it be for new inventions or a brand that needs copyrighting.
Much of his work has been focused on oil and gas but there have been plenty of other kinds of customer.
"There's been a bit of everything and anything through nuclear to agriculture," he said. "A new technology muck spreader? Give me a call. But downhole oil and gas technology is really our bread and butter. There's been some really groundbreaking, world-beating, cutting-edge technology coming out of this area.
"We have some of the world's best engineers and scientists, particularly in the energy sector, who have produced some amazing technology over the years."
EIP was spun out of Ecosse Subsea (ESS) last July, when Banchory-based ESS was sold to US firm Oceaneering International for about £50 million.
The founder, owner, chairman and technology director at EIP is Mike Wilson, who previously founded ESS.
Ms Burke, who previously worked for the (oil and gas) Industry Technology Facilitator, said: "EIP was taken forward with half a dozen technologies already in the portfolio. Our first product to market was Ambient Lifter, a subsea buoyancy lifting device and very simple technology in essence.
First trials for Ambient Lifter were last September and a further deployment of the technology – using a remotely-operated vehicle to control its buoyancy and ballast – took place off Buckie earlier this year.
EIP is eyeing a number of potential markets, said Ms Burke, adding: "Everybody has things they need to lift. We are talking to everyone from UXO (unexploded ordnance ) companies to salvage businesses and decommissioning operators. We are also working with companies who are doing subsea construction."
Other potential customers include acquaculture companies, renewable energy firms and "academics who are putting down monitoring devices".
"There are wide range of applications and our focus is to decide which of these are sweet spots. EIP is looking at problems that are out there in the market that have been a challenge for a good while, and deploying very simple technology to fix them," she said.
"The beauty of having a track record is helping us to gain traction in the market much earlier than we would have otherwise," she added. Mr Horn said the "key thing" for getting DeltaTek up and running was knowing what to focus on.
He said: "Without education from the likes of Elevator, it would have become far more expensive as we stumbled along making mistakes."
Mr Horn was a drilling supervisor with BP, working in the North Sea, Angola and the Gulf of Mexico, before oil prices tumbled in late 2014 and early 2015.
"Everybody was talking about cost efficiency and new ways of working and thinking," he said.
"We needed to embrace these opportunities. I thought it was a great time to make a leap of faith." DeltaTek's mission is to save rig time in offshore oil and gas operations.
The well construction specialist has developed pioneering technologies for all types of subsea projects, regardless of water or well depth.
Its entrance into the drilling market was accelerated through support from the Oil and Gas Technology Centre and Scottish Enterprise who facilitated a number of field trials in the North Sea with oil and gas majors.
Bringing others in to create the "right" team was pivotal for DeltaTek, Mr Horn said. "Things fell into place quickly from that point forward."
Chevron and Siccar Point led where others have swiftly followed in adopting DeltaTek's technology, and it has recently appointed a business development manager for Houston in the US. Mr Horn said: "Things are going fantastically well but it's not been an easy journey. There have been moments of tears."
Elevator works across a large part of Scotland to help start-up and grow new and existing businesses.
Mr McEwan has seen a "remarkable" upturn in entrepreneurship in the north-east over the past five years.
"Innovation is happening even if it's not protectable," he said.
"We are innovating in new areas too, it's not all about oil and gas. There is genuinely a very entrepreneurial environment here.
"Scotland had about 9,000 start-ups last year and the north-east produced almost 1,300 of them – that's about 15% of the total and we've only got about 8% of the population. There is a very vibrant entrepreneurship culture, which makes me feel really confident about the future of this area."
His optimism is backed up by patent applications, Mr Brown said, adding: "In the past 17 months we have drafted more than we did in the previous five years, which is just astonishing.
"It's a really positive sign that there is some great new technology waiting to come through."