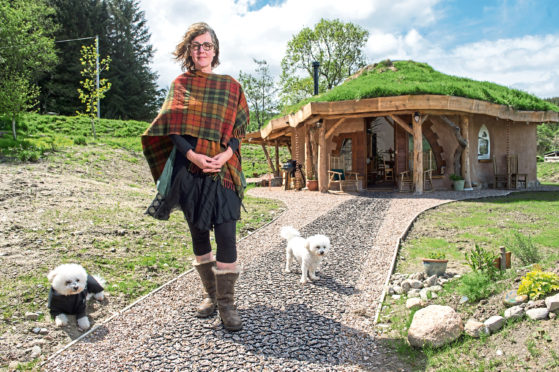 Each week, we ask small businesses key questions.
Here we speak to Kim Siu, partner and creative director at the newly opened Hobbit Hideaway near Aberlour.
How and why did you start in business?
I had a vision and basic skills – all I needed was a little push. We had already built our own eco home and had space, while I run a charity called Get Rugged, which promotes natural building.
Creating something natural and unique was an obvious choice. We started off by testing the market using the static caravan we lived in for two years while building our own home. It went well and people loved staying in it. Hobbit Hideaway planning started soon after and it achieved completion in March 2019. It opened to visitors on March 27.
How did you get to where you are today?
I am a determined and driven woman who does not take "you can't do that" for an answer. Gritty determination, not being afraid to be different and gaining strength from adversity certainly helped.
Who helped you?
I'm blessed to have a loving family who continue to amaze me by standing by my crazy ideas. I need to give a special mention to two of my daughters who, on my 50th birthday, each gave me a substantial donation from part of their inheritance from their father. This was such a special gift and I wanted to use it to create a legacy to honour him.
I also worked with two mentors who generously shared their vast experience. One of them, Oliver Swann, who runs Natural Homes, set me homework to create our design brief. He also helped me to find Jeffrey Hart and Joe Duirwyn, at (eco builder) Hartwyn, who would help to bring my vision alive, along with our architect, who interpreted the brief beautifully.
What has been your biggest mistake?
I am a foster parent and although this is nothing to do with starting a business, my mistake was waiting so long to become one. I wish I had thought about it years ago.
What is your greatest achievement?
Giving birth to my four kids. Being a foster mum is equal to that though, so raising five fabulous girls is my greatest achievement. Running a business is pretty cool, too.
If you were in power in government, what would you change?
I've found the Federation of Small Businesses pretty dynamic and proactive at helping to make things happen for small businesses, but I'd like to see government make more support available for young people to start their own businesses. There's so much creative energy out there going to waste.
What do you still hope to achieve?
I'd like to mentor young talent in business, run workshops in the Hideaway to inspire more natural homes, and create lots of meaningful and mutually beneficial partnerships with other local businesses.
I've also just initiated a research project with Get Rugged looking to identify if there's any correlation between living in a natural home and improved mental health and wellbeing.
What do you do to relax?
One of my favourite ways to relax is to have a hot soak in a bubble bath with a good book – add chocolate and a glass of red and I'm in heaven.
What are you currently reading, listening to or glued to on the TV?
I listen to an eclectic mix of music on Spotify and am currently reading the autobiography of Sarah Milligan.
What do you waste your money on?
Every penny we make gets ploughed back into making the Hideaway a soul-nourishing and magical experience which involves spending money in charity and pre-loved shops.
I don't think of it as wasting, but keeping money local, ethically spent and reducing waste.
How would your friends describe you?
After two hours of posting this question on Facebook I was described as uniquely inspirational, passionate, caring, strong, determined, kind and slightly crazy, among other things.
What would your enemies say about you?
Perhaps that I'm not one to be messed with. Apparently I can be quite scary. I don't think so, but others seem to think I can be.
What do you drive and dream of driving?
I drive a Ford Fiesta – it's a great wee car with low emissions, and a nifty wee run-around. If I could have any car, I would choose a sexy Porsche, but only if it was a low emissions model.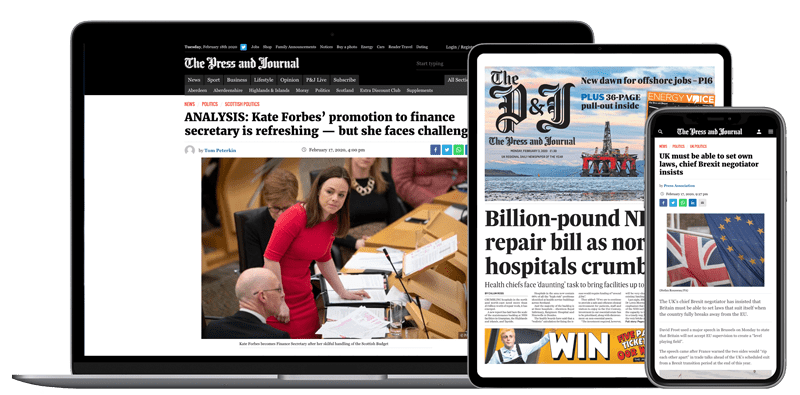 Help support quality local journalism … become a digital subscriber to The Press and Journal
For as little as £5.99 a month you can access all of our content, including Premium articles.
Subscribe