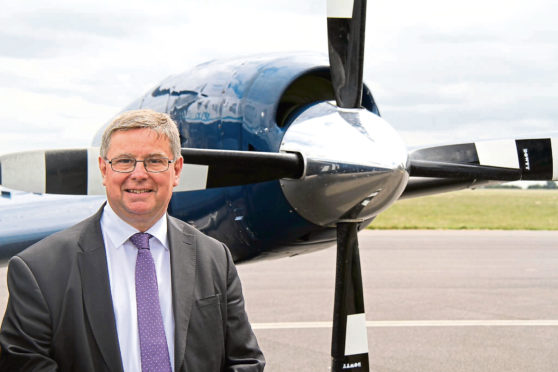 Further details have emerged of plans to launch the world's first electric-powered passenger flights on island-hopping routes in Orkney.
As revealed in the Press & Journal, Scottish airline Loganair is working with aerospace experts at Cranfield University to convert a nine-seater aircraft for use on short journeys between Kirkwall and Orkney's other islands.
Aberdeen-born Professor Iain Gray, director of aerospace at the Bedfordshire university, said a proposed consortium had been formed for the £10 million project, which has been named after 20th-Century Highlands and Islands air pioneer Captain Ted Fresson.
Professor Gray said he believes Scotland has a "very significant role" to play in the development of electric aircraft and that the island-hopping services offer "an ideal introductory route for such an aircraft".
He continued: "The proposed project consortium is led by Cranfield Aerospace Solutions (CAeS) and Cranfield University, Rolls Royce and includes electric motor specialists, battery management experts and battery development with the Warwick Manufacturing Group.
"The project will work very closely with Loganair, with Highlands and Islands Airports and with island councils such as Orkney.
"It is a project that will not only help implement the aircraft technologies, but will be a pathway for the future regulation of electric aircraft and the establishment of infrastructure for electric aircraft.
"I was very keen that a link to Scotland's aerospace heritage was built into the project and this is very much captured in the project title – Project Fresson."
I has been forecast the first electric-powered flights, by the converted Britten-Norman Islander plane could be made by 2021 on the island-hopping services, that include Westray to Papa Westray.
Funding for the project is to come from a public and private investment.
Cranfield University and its subsidiary CAeS are seeking UK Government support.