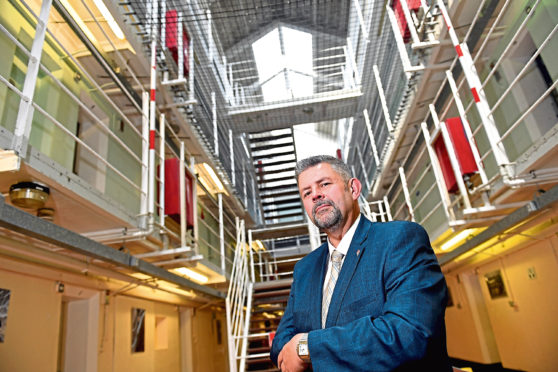 Peterhead Prison has been a landmark in the town for more than 130 years. The mammoth, granite structure decorated by razor wire would be, to some, a building only pictured in a Victorian horror film.
But to those who have lived in the Blue Toon it's part of the north-east's history. Whether it be from tales passed down from former wardens or through scary stories which frequently circulated the town everyone had their own perception of what went on in those bar-clad halls.
So when the last prisoner left just two days before Christmas in 2013 there was a strange feeling that somehow all of that history could now be lost.
But the following year bosses at Score International, Peterhead's biggest employer, decided to purchase the site for £600,000. A steal you might think for a site covering six acres. But just a few months later the north-east has hit by the worst oil and gas downturn in a generation.
While the plan was always to extend the workshops into the prison site it seemed unlikely the firm would need the whole area for expansion when the industry was at a 40-year low.
So they decided to diversify and at the same time "give something back to the local community" by protecting the local heritage.
And there Peterhead Prison Museum was born.
Exactly three years on from the day the doors reopened, but this time to the public, I sat down with one of the driving forces behind its creation, Score International managing director Conrad Ritchie.
Despite having lived in Peterhead for the first 18 years of my life, it was one building I had never been in so I was intrigued – and slightly frightened – to see what was behind those walls.
When I arrived Mr Ritchie guided me into a building slightly in front of the main prison gates which was now being used for Score training. This, he said, used to be the governor's office. I was surprised just how integrated the engineering company and the prison museum were.
"This building that you are in just now is home to Score Training," he said.
"So Score is operational in this admin building and in the old gym (within the prison building).
"We refurbished that and we have six engineering and technical classrooms so our main training company operates out of the same facility."
Mr Ritchie said that while the firm decided to diversify, the idea to open the museum was not driven by that.
"It was always our intention really to expand Score into the site and as that evolved the museum idea kind of came along.
"It took about a year to get the museum up to standard that was acceptable because when the prison service left the site they were of the opinion it was just going to be demolished so they just wrecked everything and there was quite a lot of work to get it back to what you see today.
"But it wasn't diversification-driven. It was more a sense of corporate social responsibility.
"We are a company that likes to do the right thing by the communities that we operate in and we thought there was something here that was worth preserving and could be a big draw to the local community."
Since the opening, its five star Trip Advisor rating and multi-award wins have helped to pull more than 280,000 through the doors with around 90% coming from outwith the Buchan area.
Despite not specifically setting out to diversify, Mr Ritchie recognises how important it is and believes that while there is life in oil and gas there is a lucrative future in tourism.
With a generation of experience born from the North Sea on our doorsteps, he also believes these skills are transferable and can even work side by side.
"Particularly the north-east, the region really needs to diversify," he said.
"In my opinion there is still a generation of opportunities in oil and gas in the North Sea as a whole, but tourism is something that's going to be here for a long time and we need to encourage that as long as we can.
"There are similarities with the two industries – obviously, dealing with the public is a different ballgame and takes a different mindset.
"It can be challenging but nothing that you can't overcome or compensate for.
"If you have a problem in oil and gas you pull the team together, you brain storm, you work out the solution and you go and solve it for your clients
"It's exactly the same in doing something like this. You try to look at it from the public domain, does it work? If it doesn't work tweak it.
"At the same time we opened the prison museum we opened up the Score training element so those two teams kind of worked – and continue to work – closely. Within our Score training is our own multimedia company so they handle all the marketing and online tools for the Peterhead Prison Museum like the online shop.
"Setting up all of that, we were fortunate to be able to keep that in-house and on-site."
The closure of the jail marked the end of one of the most turbulent eras in the history of the Scottish prison system.
Originally built in 1888 to house the convicts who constructed the fishing port's breakwater, Peterhead has incarcerated some of the country's most infamous inmates including Glasgow gangsters Jimmy Boyle and Arthur Thompson, serial killer Peter Tobin and "limbs in the loch" murderer William Beggs.
The prison, which laterally turned into the main jail for Scotland's most violent offenders, also hit the headlines in 1987 when the SAS was brought in to end a dramatic siege in which veteran prison officer Jackie Stuart was held hostage for five days.
To this day, the now 90-year-old Mr Stewart still makes the daily trip to the building where he spends his time informing museum visitors.
It's people like him who have made the attraction such a success in such a small space of time.
Mr Ritchie said: "A lot of work had to go into researching everything to ensure we had stories to model the museum.
"Most of the information came from ex-members of staff. We all knew people who worked in here but what I would say is we all knew the outside story which is totally different to the inside one.
"When members of staff were actively working here they were not permitted legally to speak about what happened at work and now they can."
Mr Ritchie said it took about six months to capture all the information they needed so they could tell the story like it's still happening.
"If it hadn't been for the ex-members of staff it would have been almost impossible to create it as we did, as the data doesn't exist," he said.
"It is now managed by a guy called Alex Geddes who has been involved from the very start. He is local born and bred, was in the police force and also had various posts in council so he is quite clued up on local history and has been a perfect fit.
"It wasn't easy going from working in Score to setting up the museum. There were a lot of challenges, red tape etc, we had to go through planning which was quite troublesome but, over the years, we have built up a strong team from the museum side of things and reviewed the feedback to try to better ourselves.
"We are always reinventing it. It's very much a fluid thing as there are always new bits being added on so a lot of people come back time and time again and can see the changes. #
"The main focus always was not the previous inmates but the stories of the people running the facility, and that's what we've done because you don't want to glorify the folk that were in here – they were nasty people, the worst of the worse.
"Old members of staff come in and they will give you stories about what happened so we capture all that and we use it to make the experience real. Some of the ex-staff are working here as volunteers, which is great.
"They enjoy it and the public seem to enjoy getting their selfies taken with them."
However, it's not all plain sailing and sometimes some of the biggest challenges to draw visitors to the area are outwith their control.
Mr Ritchie feels better transport links and infrastructure for Peterhead would be a big boost to tourism in the region.
He also believes, given the mount his firm has paid out over the years in business rates, that the area should be seeing more return in terms of public sector money.
That said, big plans are in store for the future of the site with a new lifeboat museum set to open there very soon.
He said: "Over the course of the next six months we are going to develop one of the halls and turn it into an escape room.
"What's been really successful have been our Halloween tours which will also be returning this year.
"It's just a case of analysing the feedback, looking at what the public want and trying to create something different."