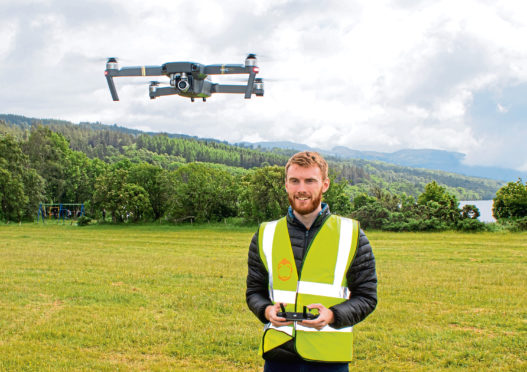 Each week, we ask small businesses key questions.
Here we speak to Cameron Carroll, owner of Inverness-based video company
Redbeard Productions.
How and why did you start in business?
Born and raised in the Highlands, I love the region and really can't imagine living anywhere else. But I also love to travel to exotic places like Australia, the Far East and other parts of Europe, and it was documenting these trips using video that led me to where I am today.
Fascinated by the whole cinematography and editing process, I realised I could make a career out of it. I studied digital media design and production at Robert Gordon University in Aberdeen before landing a job as a videographer for a public relations (PR) company in Inverness.
I then set up RedBeard Productions to provide top quality Highland video content from my Inverness base.
How did you get to where you are today?
I've invested a lot in my business since August 2018, not least in purchasing a drone and obtaining my "permission for commercial operations" from the Civil Aviation Authority. This has been a game-changer as I can now provide aerial videos for clients in sectors ranging from tourism and hospitality to real estate and construction; in fact to anyone looking for professional results.
Who helped you?
I would not be where I am today without help from my previous manager, Helen Ross, who now runs the Whale-like-fish PR agency, in Inverness, alongside Eilidh Marshall.
They guided me when I first started and we're good friends to this day. I also could not have done it without my parents, who believed in me and invested in my business to help me get up-and-running.
I am really grateful to the Federation of Small Businesses (FSB) as it ran the first networking event I ever went to.
FSB's member services have been great too, especially on the legal aspects of self-employment.
Also, my girlfriend, Rachael, has been amazing. She really believes in me and is supporting me more than I could ever ask for.
What has been your biggest mistake?
Believing that I couldn't do it. Never doubt yourself and give everything your best shot.
What is your greatest achievement?
Starting RedBeard Productions. It's been hard and there's definitely a learning curve, but it has also been great fun and I'm proud that I stuck at it.
If you were in power in government, what would you change?
I would push for more funding in schools, decreased workloads for teachers and more pupil support assistants. A better country and a better world start from the bottom and we could be doing so much more to better educate the future.
What do you still hope to achieve?
I'd love it if every business in Inverness included a video produced by RedBeard Productions on its website or for use elsewhere. In the long run, working in television or movies in any capacity is my dream, though I'd give my eye teeth to become a cameraman, editor or director.
What do you do to relax?
I have recently started playing guitar a lot again and I love it. I also enjoy going off the beaten track into wild places, exploring all that Scotland has to offer.
What are you currently reading, listening to or glued to on the TV?
The recent Chernobyl series on TV was absolutely brilliant. I'm now looking for something else to watch – maybe I'll give this Game Of Thrones thing a chance.
What do you waste your money on?
Definitely food. I will have a fridge full of it and still say: "Yeah, why not, let's get a takeaway or go out to eat." I'm supposed to be saving for a house.
How would your friends describe you?
Determined, that I always try to do the right thing, and am always there when they need me – especially when it comes to getting a round in at the pub.
What would your enemies say about you?
They would say I just sit at home all day and then make some videos, and that it's not a real job, however, making top-notch, professional videos is much harder than anyone thinks.
What do you drive and dream of driving?
I'm currently driving a small Toyota Aygo in my corporate colour – red, just like my beard. It's my first car and it gets me about, but my dream car is a 1970s Ford Mustang in red or black.