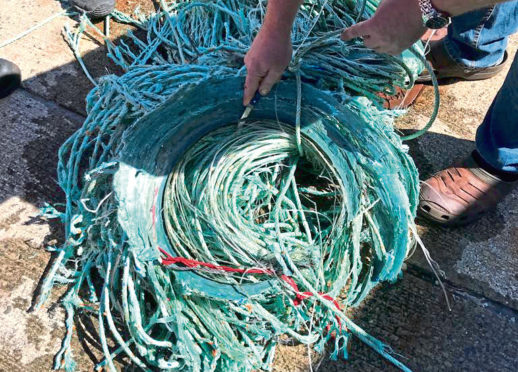 Shetland fishermen have called for tougher controls on foreign boats creating plastic pollution in Scottish waters.
According to Shetland Fishermen's Association (SFA), scores of local boats have hauled up fine mesh twine in their own nets and at least one had to sail for home for costly repairs after its propeller was fouled by fishing gear.
SFA said yesterday the problem was exacerbated by "a lack of proper communication and often aggressive behaviour by the predominantly Spanish and French skippers".
Many gill netters, using vertical panels of netting that hang from a line held up by regularly spaced floaters, leave their nets in position when they steam south to Ullapool to land, denying access to local boats that have fished these waters for decades, the association added.
SFA executive officer Simon Collins said: "At a time when the public is rightly concerned about the amount of plastic dumped in the sea, it is particularly galling for our skippers to be forced off local fishing grounds by vessels that leave so much rubbish behind them.
"They seem unconcerned about the plastic debris that they are polluting the seas with – really fine mesh and lines that pollute our waters, harm wildlife and foul our boats.
"Many of them have behaved in a needlessly aggressive manner."
Mr Collins added: "We urge the Scottish Government to regulate these vessels' access to our waters as soon as it can do once we leave the Common Fisheries Policy, as part of the normal cycle of negotiations between coastal states.
"In the meantime, we need the authorities to use the powers they do have to limit the damage."
James Anderson, skipper of the Lerwick-registered Alison Kay, was working on grounds 30-50 miles west of Shetland when he saw "a line of three boats with enough nets to cover the whole area".
Mr Anderson added: "There were 10 German-flagged Spanish boats, with no track record of fishing here taking up I reckon 200 square miles.
"In years gone by they may have been here, but there were fewer of them and they were much further out, much deeper. They're aggressive too.
"We've lost a lot of fishing because of this, and because they leave the gear we get caught in it and have to haul it up. It's fine mesh plastic, a right mess.
"The Icelandic and Norwegian governments have severely limited this type of fishing, and it's about time the UK and Scottish governments did so too."
Gordon Irvine, skipper of the Defiant, said: "If we tried anything like that off Spain or France, there would be an outcry."