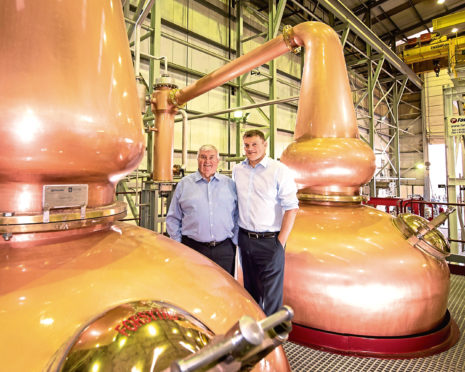 Whisky still-maker and fabrication group Forsyths has reported a drop in profits and turnover, but the boss of the family-run firm has said its overseas business "continues to flourish."
According to group chairman Richard Forsyth, the Rothes-based company felt the effects of a slowdown in growth of the Scottish and Irish distilling industries in 2017-18 after a record year in 2016-17.
The company, which also has facilities in Aberdeen and Buckie, yesterday described its annual results for the 12 months to the end of last October as "respectable" and Mr Forsyth said he was "heartened" by them.
Due to be filed with Companies House this week, they show pre-tax profits fell from the £8.9 million high of the previous year to £4.7m, while turnover dropped from £58m to £47m.
But international sales increased by 23% to more than £12m over the same period, boosted in particular by success in Far Eastern markets.
Mr Forsyth said: "I am very heartened to report our good 2018 results – as expected turnover and profits have reduced from our 2017 exceptional year.
"This is due to a slowing of growth in the Scotch and Irish whisky industries. That said, our Far East and overseas business in general continues to flourish."
He added: "We have seconded a team to the Asia Pacific region due to the increase in work we are winning from that area to service those customers.
"There are signs of oil and gas industry contracts increasing which will be a timely intervention. We also continue to reinvest in the group."
The company employed an average of 386 people during its most recent financial year.
Forsyths manufactures copper stills and distillation equipment for drink distillers all over the world. It also fabricates goods for the oil and gas industry, as well as the nuclear sector.
The firm has its roots in a brass and copperworks acquired by the current managing director's grandfather, Alexander Forsyth, in 1933. It has been in the Forsyth family ever since.
It nearly went to the wall after the start of World War II but then saw boom times as the whisky industry thrived during the 1960s and 1970s.
Alexander's son, Ernest took control after the war, handing over the reins in the 1970s. Richard Ernest Forsyth, the current managing director, is the fourth generation working in the business.
The company has also bought and restored the Station Hotel in Rothes, transforming it into a boutique establishment which it says pays tribute to its links with the spirits industry.