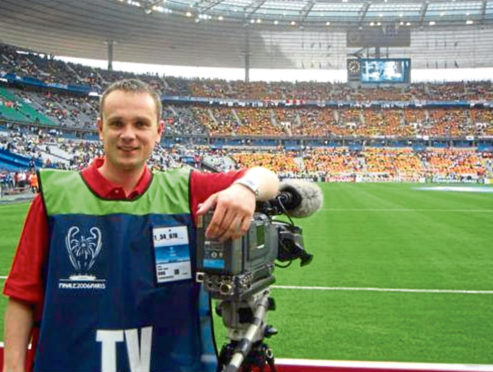 A north-east firm's key role behind the scenes at the 2019 Fifa Women's World Cup in France made sure there was a Scottish presence in the competition right through to the final.
Scotland's on-field exploits were impressive enough, with Shelley Kerr's team putting in three battling performances against strong opposition.
While they were unable to progress beyond the group stage, outdone by a spectacular late comeback by Argentina and some bad luck on the refereeing front, the players did Scotland proud and were an inspiration to young girls.
AVC Immedia, based in Aberdeen, remained busy off the pitch right until the tournament's final whistle and beyond.
The company worked on a variety of audiovisual projects on behalf of Fifa, world football's governing body.
AVC Immedia general manager Keith Robertson said the whole event had been a wonderful experience.
The former part-time footballer added: "The fans were incredible and the atmosphere was great.
"There were lots of families there and the way people from so many different countries mingled together was terrific to see.
"The football was also great, with some fantastic games in absolutely perfect weather and beautiful stadiums that in many cases were sold out."
Scotland's top women footballers were taking part in a World Cup for the first time, while the nation's men's team has not qualified for one since 1998.
AVC Immedia and its forerunners have been involved at almost every World Cup since the men's tournament in Mexico in 1986.
The Grandholm Mill-based business of today specialises in technologies which didn't exist back in the 1980s, when Sir Alex Ferguson – then boss of all-conquering Aberdeen FC – unwittingly helped Granite City businessman Keith Main diversify into football video work.
Mr Main ran mobile disco, lighting equipment and video rental businesses in the city. He is widely credited with having installed Scotland's first flashing dancefloor at the Old Mill Inn on Lower Deeside Road, as well as opening Aberdeen's first video rental shop.
It was a business partner of his who pitched up with a video camera at an Aberdeen FC training session in Seaton Park to film the Dons, with a view to improving the match preparations of a local junior club.
The story goes that Sir Alex came over to the cameraman and asked him to film defender Alex McLeish, who was suspected of hiding an injury.
From there, AVC Media Enterprises started supplying video support to Aberdeen FC and that led to work for the Scottish Football Association.
The Aberdeen firm was asked to produce the videos used by the Scottish national team in tactical talks before each big game.
Its reputation grew quickly and it wasn't long before the company's services were in demand further afield, not just in football circles but also in the oil and gas industry.
AVC, which stands for Aberdeen Video Centres, became a supplier of news and entertainment services to North Sea workers.
Current managing director Spencer Buchan acquired part of AVC Media Enterprises – AVC Media – from Mr Main, leaving him with property interests, in 2014.
AVC Media went into administration in autumn 2016, a victim of the north-east economic downturn as clients reined in their spending.
It was quickly snapped up and rebranded by Immedia Group, an AIM-listed company founded and run by former Radio 1 DJ and Top Of The Pops host Bruno Brookes in a cash plus shares deal worth £250,000.
Mr Buchan and Mr Brookes had met at the Ryder Cup at Valhalla Golf Club in Lousiville, Kentucky, in 2008.
"We struck up a very close relationship," Mr Buchan said, adding: "In 2016, Immedia was looking to expand and AVC needed to get investment into the business.
"Putting the two together allowed us to flip AVC into a plc.
"We are still very much a content business, doing what we've always done but under a different guise."
AVC Immedia's award-winning creative team produce video, animation and digital content for a wide range of clients, including Nasa.
"It's a very schizophrenic business," Mr Spencer said before highlighting work ranging from supplying the screens for major events in Aberdeen to putting Sky TV into hundreds of sites offshore.
The 47-year-old described himself as a "father figure" for the firm, surrounded by a near 20-strong young team of "dynamic individuals" who keep up to speed with fast-changing technology.
AVC Immedia is "the healthiest it has been in years" and in much better shape than in 2016, although it was never in any danger of folding, he said.
He added: "Becoming part of Immedia was the best thing for us and it has allowed the business to flourish. It's opened up a world of opportunities."
The firm notched up turnover of £1.3 million last year and Mr Buchan expects the figure to swell to £2.5m in 2019 – welcome progress but still a far cry from "back in the day when it was £4.5m and we employed 90 staff".
He added: "Our next step is to take it from a £2.5m company to a £5m business."
Company shows its talents on the biggest stage of all
AVC Immedia sent six members of staff to the 2019 Women's World Cup in France to produce video content for Fifa's Facebook and YouTube accounts.
General manager Keith Robertson is an old hand at covering the world's biggest football tournaments as part of the AVC team.
He wanted to be a professional footballer himself earlier in his career but a serious ankle injury during a pre-season trip to Ireland put paid to any hopes he had of joining Dundee FC following spells at Keith, Peterhead, Cove Rangers and Deveronvale.
He was on the books at Peterhead FC when, in 2000, he joined AVC as a senior sports production technician.
"I was doing a lot of travelling and then trying to get back for games on the Saturdays," he said, adding: "It just didn't work."
His first stint as a men's World Cup cameraman came at the 2006 event in Germany, working alongside Fifa's technical study group as part of the video analysis and documentation of the tournament and its key players.
In 2010 he was in South Africa producing and directing content as part of a camera crew filming the referees.
Later the same year he started providing match analysis for Aberdeen FC on a daily basis.
In the summer of 2017 he was part of a two-man crew producing content at the Under 20 World Cup in South Korea, while the advent of VAR (video assistant referee) technology saw him working alongside its technical team – as an infotainment VAR producer – at the senior men's finals in Russia in 2018.
At the recent Women's World Cup, won by the US, AVC's team produced content for Fifa Films across six host cities, primarily focusing on sponsor activities.
There have also been Uefa Champions League finals along the way in Mr Robertson's globe-trotting career.
AVC combined its media and sports departments in 2013, putting him in charge of developing the business and making sure it remained at the top of its game in terms of video production and 3D animation.
An acquisition of the company by Immedia Group in 2016 led to a rebranding in late 2016, with Mr Robertson continuing as general manager of media and sports productions.
AVC Immedia is now part of a Berkshire-based group providing a wide range of digital content channels to some of the worlds most celebrated brands and businesses.
Immedia Group's chief executive is Bruno Brookes, who carved out a career for himself in front of television cameras and radio microphones as a DJ and TV presenter on his way to founding the company nearly 20 years ago.
Another key milestone for AVC came in 2015, when it moved from Altens into newly-renovated headquarters in the former Grandholm Mill.
The Grade B listed building was once the biggest woollen mill in Scotland – home to the firm, J & J Crombie, which manufactured the famous Crombie coat.
AVC managing director Spencer Buchan said it was entirely fitting for a building so steeped in Aberdeen's manufacturing history to become home to another creative business in the Granite City.
The same attention to technical skills applies on the site today as it did during the mill's heydey under J & J Crombie, Mr Buchan added.
J&J Crombie manufactured textiles at Grandholm from 1859 to 1990, when production was shifted to manufacturing sites elsewhere in the UK.
The coats have been worn over the years by Sir Winston Churchill, King George VI, the current Duke of Rothesay, US president John F Kennedy and former Soviet Union President Mikhail Gorbachev, as well as celebrities including Peter Capaldi, David Beckham, Daniel Craig, The Beatles, Sean Connery and Cary Grant.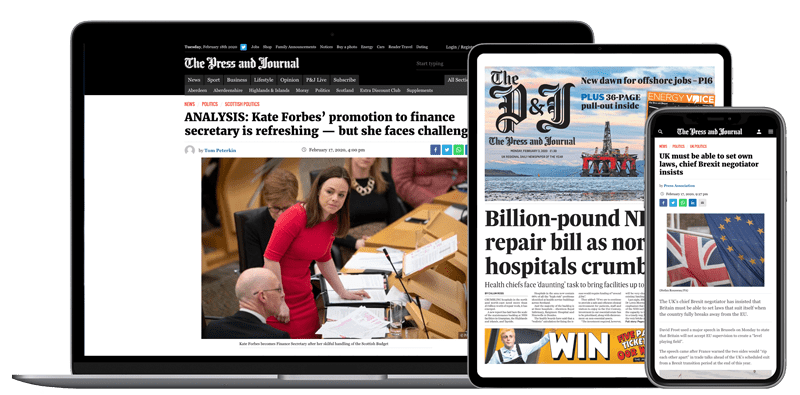 Help support quality local journalism … become a digital subscriber to The Press and Journal
For as little as £5.99 a month you can access all of our content, including Premium articles.
Subscribe