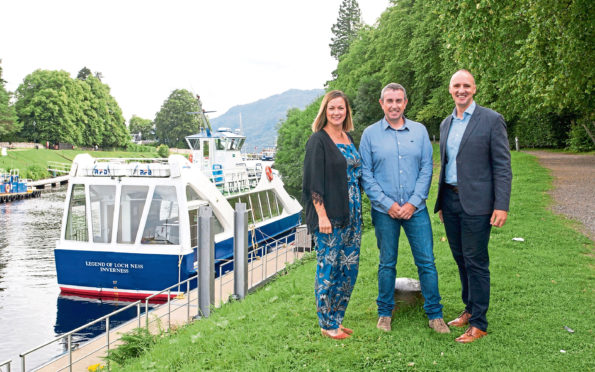 Family-run tourism firm Cruise Loch Ness has invested a "six-figure sum" in developing a new booking office at its Fort Augustus base, with the company anticipating its busiest summer to date.
The facility was officially opened yesterday by Chris Taylor, VisitScotland's regional leadership director for the Highlands and Outer Hebrides.
Run by husband and wife Ronald and Debi Mackenzie, Cruise Loch Ness was launched in 1968 by Mr Mackenzie's father Norman, offering trips on the world-famous waters in a former RNLI lifeboat capable of carrying up to 12 passengers.
It now operates five boats, including the latest addition to its fleet, introduced last year, which can carry 210 sightseers.
Speaking at the opening ceremony, Mr Taylor said: "It is terrific to meet a local couple with such a thriving business. Cruise Loch Ness is a brilliant demonstration of the positive economic impact a five-star tourist attraction can have on a small community, not to mention, a great day out.
"Its success is a testament to Ronald, Debi and their dedicated team and I look forward to witnessing their continued success in years to come."
Ronald took over the running of the cruise company from his father 20 years ago, although his involvement with the company began at the age of five, when he helped collect fares from passengers.
He said: "We were delighted to be launching our new booking office today and enjoyed the opportunity to share an insight into how our business operates with Chris.
"Our best assets are our team, who we have come to view as family, and the spectacular backdrop we are lucky enough to call our back garden.
"We really are spoilt here, and our biggest passion is sharing the delights of Loch Ness with visitors and locals alike."
Earlier this year, Cruise Loch Ness, which employes 18 people, celebrated a double triumph in the UK final of the Federation of Small Businesses' (FSB) annual awards.
The company won the top honour for family-run firms and was crowned small business of the year.
Last year the firm added the £1.5million Spirit of Loch Ness catamaran to its fleet as it anticipated a 20% increase in passengers from the 150,000 people it carried in 2017.
According to research published last year, the Loch Ness Monster is worth nearly £41m to the Scottish economy.
Researchers analysed the number of people who visit attractions around the loch and those who take to the waters to look for Nessie, as well as figures for tourism spend and accommodation.