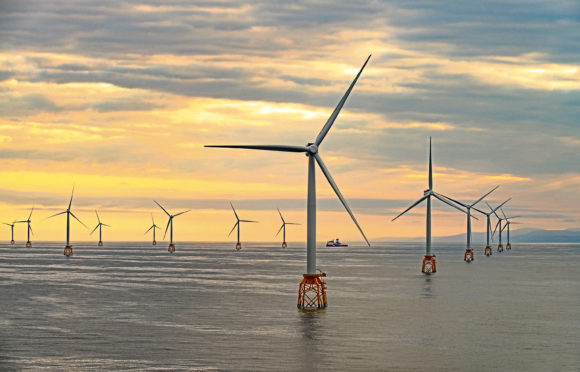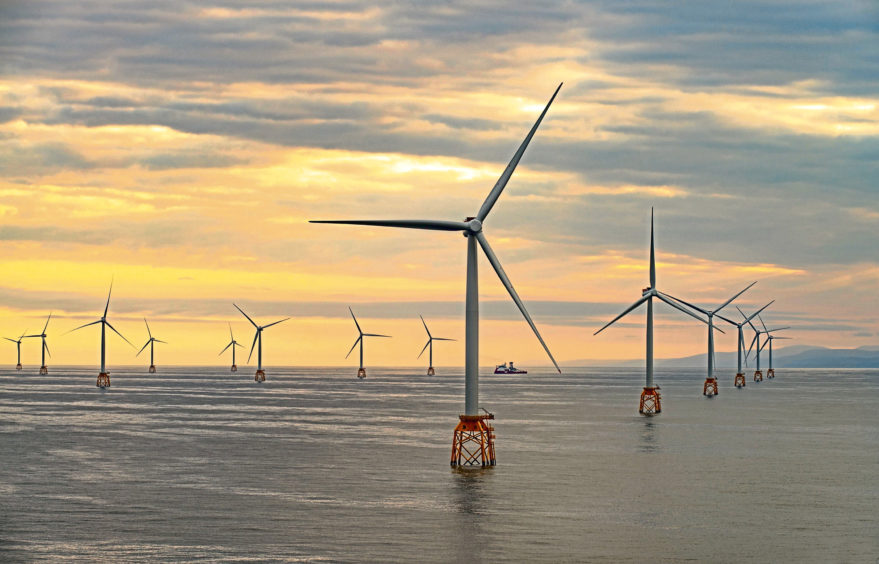 A group of companies have joined together to forge an offshore wind industry in the North of Scotland that will take expertise from the north east around the globe.
DeepWind is one of eight cluster groups formed under the Offshore Wind Sector Deal, which in turn is part of a 10-year, £250 million UK-wide programme. The Offshore Wind Growth Partnership (OWGP), led by the Offshore Renewable Energy (ORE) Catapult in Glasgow, aims to see offshore wind provide 30% of UK energy production by 2030 and to ensure the UK supply chain can play a significant role in its delivery.
DeepWind is one of two "cluster" groups in Scotland under the deal. The other, the Forth & Tay Offshore Alliance, will focus on consented and future developments in the Firth of Forth, while DeepWind will focus on developments off the coast of Moray. In addition, DeepWind, as its name suggests, will specialise in deep water offshore wind technologies and will act as the lead cluster for floating offshore wind in the UK.
Paul O'Brien, senior development manager with Highlands and Islands Enterprise (HIE), is spearheading the DeepWind group, which has attracted more than 135 members since it was officially set up just over three months ago. These include major developers such as EDP Renewables, Equinor, Cobra, SSE and Vattenfall as well as representatives of the supply chain such as Aberdeen Renewable Energy Group (Areg), CS Wind, Global Energy Group, Opportunity North East, Port of Cromarty Firth and Seaway7.
Mr O'Brien has been involved in the development of marine energy in Scotland for nearly 15 years. And while he shares the dismay that Scottish companies such as Bifab have recently struggled to take on bigger roles in major projects, such as the £2bn Moray Offshore Windfarm East being developed by a consortium led by EDP Renewables, he is confident the sector has scope to flourish.
The clusters set up in Scotland through the sector deal, along with new technologies being promoted at the National Manufacturing Institute Scotland (NMIS) and the Advanced Forming Research Centre, plus the investment due to support companies to improve their competitiveness to come through OWGP are coming into place at the right time.
He said: "All of this is emerging into the mainstream and there is an opportunity still for Scottish companies to be stepping into this sphere and riding the waves."
Mr O'Brien has set sights on ScotWind, the major leasing of seabed areas suitable for the next stage of commercial-scale offshore wind by the Crown Estate Scotland. This kicked off at the end of July when the Crown Estate released the details so that developers can start preparing project proposals.
ScotWind projects are estimated for construction in 2026-27. Mr O'Brien believes the licensing round will present developers with significant opportunities for deep water projects using fixed and floating wind farm technologies. However, in the meantime, he believes the DeepWind offshore cluster has a major opportunity to deliver offshore wind powering oil rigs as soon as the next few years.
He said: "The ScotWind round is a potential game changer for the industry in the UK and for the supply chain looking at floating wind.
"That is why the idea of creating an interim market in the oil and gas sector is so appealing – it is a stepping stone to what comes out of ScotWind."
Currently Equinor, a member of the DeepWind group, is the first out of the gates with a major offshore wind into oil plan. The 88MW Hywind Tampen, using the technology developed at the Hywind project offshore Peterhead, will consist of 11 8MW turbines which will meet about 35% of the annual power demand of the Snorre and Gullfaks oil and gas platforms.
Mr O'Brien says oil producers in the UKCS are very keen on the idea.
"What we are looking at the moment is getting the oil and gas industry to look to floating wind to supply their energy.
"The industry is beginning to wake up to the fact this could be an opportunity for oil and gas to reduce their own production costs using a different technology approach rather than being reliant on gas turbines or diesel generator sets.
"It not only gives them a cheaper form of energy, it also gives them an opportunity to say they are decarbonising production.
"In a world where we are talking net zero – particularly with a Scottish Government looking for net zero earlier than the UK – this could be a direct way for Scotland to contribute. And this is not just for Scotland's industry, we could export that technology to oil and gas activity across the world. This is a future activity we want to investigate as soon as possible."
The topic is a hot one. The University of Aberdeen is hosting a one-day event on Powering Offshore Oil and Gas with Marine Renewables on September 18, 2019. Meanwhile, offshore renewables into oil will be under discussion at the Floating Offshore Wind UK 2019 conference and exhibition in Aberdeen, the UK's dedicated floating offshore wind event organised by trade bodies, RenewableUK & Scottish Renewables.
Meanwhile, DeepWind has become the focus for oil and gas supply chain companies to increase their involvement in the offshore wind supply chain.
"I would say that 50% of DeepWind members are from the oil and gas sector," said Mr O'Brien.
Immediate opportunities for tier two, three and four supply chain companies still exist off the doorstep of the Moray coast such as at Moray East, while tenders are yet to come out from Kincardine Offshore Windfarm Limited (KOWL).
Mr O'Brien said: "We are keen to use the Open for Business portal to put those opportunities so wider supply chain can get access to it."
But eyes on the horizon point to opportunities further afield.
He added: "A lot of places are just beginning to look at offshore wind, and they are going to have to go for floating because of the water depths they are faced with.
"Shallow water is actually very rare. The UK and northern Europe are lucky to be able to develop in shallow water, whereas everyone else in the world has deeper than that – more like water depths that Scotland is involved in already, over 60metres.
"If ScotWind goes beyond 60m, that will reflect the market around the world.
"The US, even on the east coast, is 45-60m – the projects there are more like the projects in the Moray Firth than on the east coast of England and the north of Germany.
"We are lining up for a much larger deep water market around the world for fixed and for floating wind.
"The cost reduction in the last two or three years means many more countries are now looking at offshore wind as a way forward.
"The minute the cost drops below equivalent in fossil fuel then a hell of a lot more countries will do too."
Cost reductions mean many more countries are now looking at offshore wind as a way forward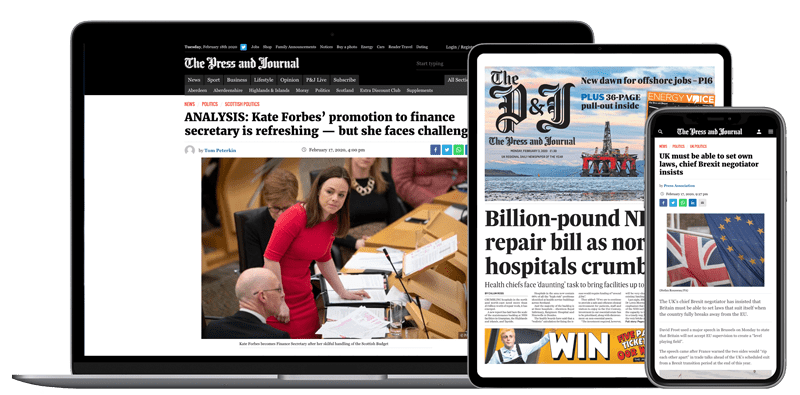 Help support quality local journalism … become a digital subscriber to The Press and Journal
For as little as £5.99 a month you can access all of our content, including Premium articles.
Subscribe