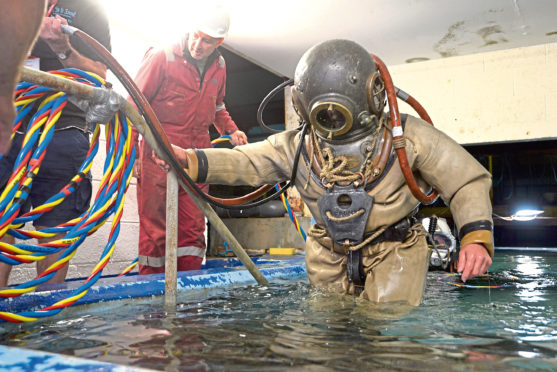 Energy industry veterans Neil Gordon and Andy Buchan are at the heart of the North Sea oil and gas supply chain, so well qualified to speak about this month's theme for The Business.
They both joined me for lunch at the fabulous Porterhouse Steakhouse and Coffee Bar at Thainstone Centre, near Inverurie.
We all chose the lentil soup starter and sirloin steak main course – and I'll say more about how good they were elsewhere on these pages.
Mr Gordon, 56, is chief executive of Subsea UK, the not-for-profit industry body championing the country's underwater supply chain both at home and abroad.
Representing more than 300 members, it acts as a focal point, bringing together operators, contractors, suppliers and people across the underwater industry to promote the UK's £7.5 billion subsea sector and maximise its opportunities, as well providing a national forum for collaboration, diversification and technology development.
Mr Buchan, 52, is chief executive of Hiretech, which he founded at Hatton of Fintray, near Aberdeen, in 2011, with a £1m investment just over four years after selling Buchan Technical Services for nearly £5m.
HireTech – wholly owned by Mr Buchan and his wife Marion – is an equipment hire, sales, service and maintenance company offering pumping spreads, powered umbilical reels, hydraulic power packs and supporting equipment, primarily for clients in the oil and gas industry but also in other markets.
More than one-third of its total revenue is generated overseas. The business is turning over about £5.5m a year and employs 30 people.
So what are the biggest challenges facing the north-east energy industry supply chain?
Mr Bruce, who hails from Braemar, said: "It depends what part of it you are in. For a small company, the challenge many of them have is that they have downsized, been squeezed and are working with very little margins.
"Their ability to scale up is a challenge – when you turn the tap off it takes a while to fill the pot up again – but margins are improving.
"At the other end of the scale, the bigger guys are saying they are still treading water until things really start to pick up again.
"SMEs (small and medium-sized enterprises) that have survived the downturn and really found their niche are very busy and doing well, while delays in projects being sanctioned are causing problems for others.
"Supply and demand is coming back to becoming more sustainable."
Mr Gordon, who managed the National Hyperbaric Centre in Aberdeen before heading up Subsea UK, added: "The consensus is that a lot of the smaller companies who have come through the downturn are pretty focused and wanted, but some are stretched and working at capacity.
"There are a number of projects in the pipeline…and it will be challenging if they all come through at once."
Mr Buchan added: "Downturns are not always bad things for all people. We found things hard, like everyone else but I'm a bit of a contrarian investor, so when everybody else was turning the taps off that was the time to grow.
"You don't necessarily get the business you want but you can certainly build the asset base so that when it does come back, you are in a good place to take advantage.
"We were fortunate in that we'd had a good few years under our belt, so when the downturn came we were still able to hold our own and also invest – there were some tremendous bargains on the go.
"The market showed a slow recovery from about the middle of 2016 and we have been pretty much steaming on since then."
Hiretech had to let two employees go in November 2015 but took them back on within months. "We took action early but it very quickly became apparent we were going to get through it," the firm's CEO said.
Mr Buchan, who is originally from Gight, between Fyvie and Methlick, added: "During the past two or three years we have been involved with industries outwith energy and found that we are actually quite competitive.
"Our markets are well service, renewables and decommissioning. It's important we have a good spread of service lines – well services is going like a train at the moment, while fabric and maintenance work is pretty slow.
"When we introduce assets into our rental pool we want to make sure we have covered at least three different disciplines so we spread the risk a little bit.
"The supply chain is very fragmented at the moment in terms of who's up, who's down and who's sort of floating about and not doing stuff."
North Sea operators are spending money on "where they can get the biggest bang for their buck", he said, adding: "Pre-downturn, you were dealing with project engineers and could put your value proposition to them.
"During the downturn it was handed over to purchasing departments who understand price but not value. Unless you are the cheapest, you are of no interest to them. It is all about price. We see that relaxing a little bit now.
"We do a lot of prototype testing – that was very quiet during the downturn but is really getting going now."
Mr Buchan said it was "inevitable" the employment merry-go-round, with people changing jobs frequently in pursuit of higher wages, would happen again.
"From a strategic point of view you would say 'yes let's not get into that situation again' – but when needs must and there is pressure to deliver on projects you need people," he added.
Mr Gordon added: "The UK is competing for resource – people and equipment – globally, some people have gone overseas where it's more buoyant and a lot of people have retired. There is not the spare capacity in the market that we used to have."
All this means skilled people will be in demand if "things start picking up significantly", Mr Gordon added.
An eating out experience that was very much worth waiting for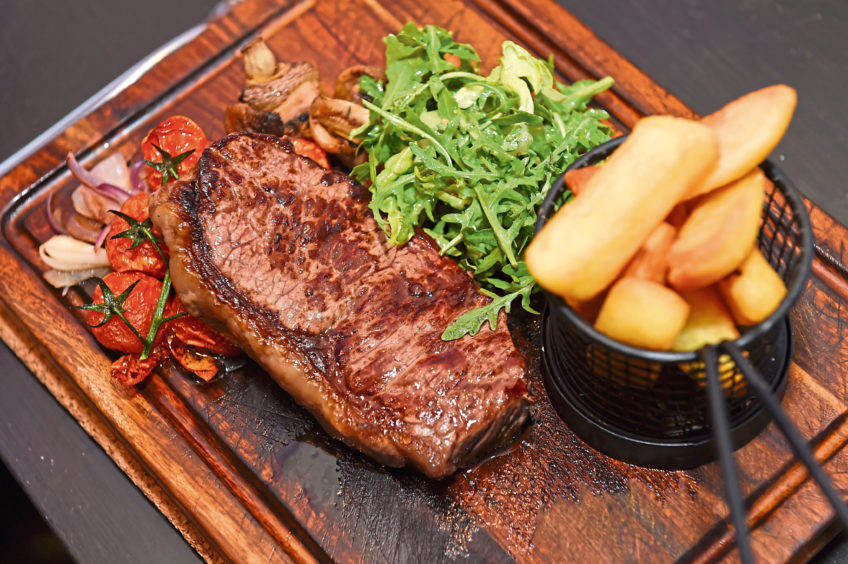 I had never previously dined at Porterhouse Steakhouse and Coffee House, despite hearing excellent feedback from friends and colleagues.
Although I've been at Thainstone Mart, near Inverurie, countless times over the years, the on-site restaurant had somehow ended up as one of those "I must try it sometime" venues.
It was well worth the wait and after this month's The Lunch, I only wish I'd gone sooner.
Having heard so many good first-hand accounts of how good the steaks were, my expectations were high.
My Porterhouse Scotch sirloin steak, with fried onions, grilled cherry tomatoes, mushrooms, rocket salad and "rustic" chips, was delicious and cooked to perfection.
General manager Graham Fryers' 28-day, dry-aged steaks had helped restaurant sales increase three-fold since a rebranding a couple of years ago.
The award-winning eatery – part of cooperative farming, food and finance business ANM Group – also takes great pride in its local sourcing.
Porterhouse offers a host of food and beverage options throughout the day and a variety of weekly special offers.