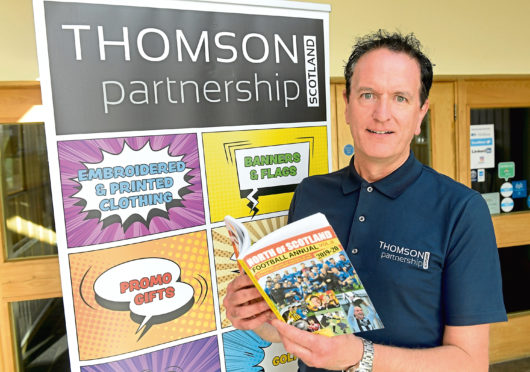 Each week, we ask small businesses key questions. Here we speak to Billy Thomson, director of Inverurie-based Thomson Partnership Scotland.
How and why did you start in business?
I began my career at Inverurie Paper Mill as a production planner before moving into export and domestic sales.
In the first phase of the factory closure, after 19 years, it was time for a new challenge.
I continued in the print business, working for 12 years before the oil and gas downturn saw a branch closure and scale-down at my employer, resulting in job losses.
With more than three decades of industry experience, it was time to start my own business.
Previously, our focus had always been on raising our four sons – David, Andrew, Ross and Scott – but with their encouragement, in 2017, along with my wife, Tracy, I started Thomson Partnership Scotland.
How did you get to where you are today?
Extensive experience in the industry helps me work closely with clients, providing the correct collateral to suit their budgets and projects.
My passion for branding dovetails nicely with a lot of warm referrals and networking on the golf course – an added bonus.
The "partnership" in the company name refers to our relationship with customers and valued trade suppliers. For some clients we are performing a marketing function, while for others we are brand managers – we adjust to suit.
We have access to many clothing and golf brands, but with no vested interest in any of them we are able to procure the correct product to suit the client's need and budget.
I've also dabbled in freelance writing for the past 22 years and still provide match reports and real-time updates from games involving my local Highland League football team, Inverurie Locos.
Who helped you?
I'm blessed with a supportive family and circle of trusted friends, both inside and outside the industry, while football connections have been really useful.
The Federation of Small Businesses has provided great advice, and I've found their networking events valuable and informative.
From day one our clients and suppliers have been hugely supportive. Without them we wouldn't be where we are today.
What has been your biggest mistake?
Hopefully, I don't make too many mistakes but my biggest has probably been trying to do too much too soon, albeit with good intentions.
What is your greatest achievement?
My biggest mistake has also been one of my greatest achievements. We're proud of starting up in a hurry and without a real game plan.
In that journey we've managed to become a trusted print, design, clothing and promotion partner for a wide array of clients across Scotland.
If you were in power in government, what would you change?
Where do you start? The moderate majority appear disconnected and forgotten by both Edinburgh and London.
I'd like to see some sort of effort to take care of the basics, with the obsession with constitutional matters currently seeing health and education, in particular, mismanaged and under-prioritised.
What do you still hope to achieve?
We want to continue to provide a high level of service, with a personal touch, and grow our synergies with partner businesses.
Working with our many charity clients is particularly rewarding, as is our connectivity with business start-ups.
What do you do to relax?
When I'm not on the golf course, which could also be classed as business, I'm secretary and social media guru at Inverurie Loco Works FC. I'm not sure about it being relaxing but it is hugely enjoyable.
What are you currently reading, listening to or glued to on the TV?
Peaky Blinders and I'm also working my way through the 30 for 30 sports films – a series of documentaries highlighting interesting people and events in sports history. As you may have guessed, sport plays a huge role in my life.
What do you waste your money on?
My cockapoo, Luna, and occasional trips to London to watch West Ham United. But since I enjoy those things, it's not really a waste.
How would your friends describe you?
I like to think they would say I'm straightforward, a man who keeps his promises and a person who always tries their best for everyone.
What would your enemies say about you?
I'm not sure who they would be and not interested in what they might think.
What do you drive and dream of driving?
I drive a Renault Grand Scenic, which like its owner has too many miles on the clock. Anything that gets from A to B and has room for my golf clubs – and Luna – suffices for me.