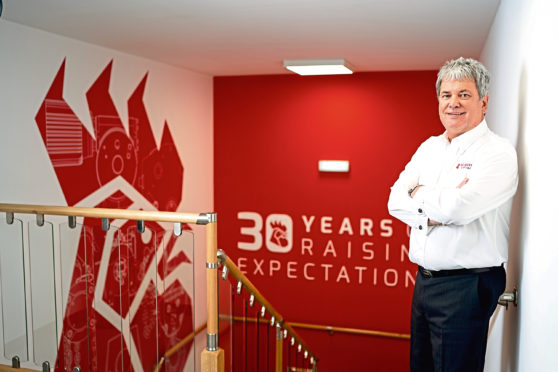 Each week, we ask small businesses key questions. Here we speak to Bill Aitken, managing director of Oldmeldrumbased Red Rooster Lifting.
How and why did you start in business?
I served my time as an apprentice maintenance engineer, and after that became a site engineer then an offshore inspection engineer.
I later moved onshore to become a workshop supervisor which soon led to a promotion to workshop manager. I next became operations director and, eventually, managing director in 2000.
I have now been at Red Rooster Lifting for 26 years and will celebrate 20 years as managing director next year.
How did you get to where you are today?
There was never a plan but I made the effort, got on with people, came up with good ideas and worked hard.
At Red Rooster Lifting, my vision has been clear from day one – to offer bespoke customer service to every client. I still believe this is what continues to set us apart from the competition.
Who helped you?
I owe a lot of my industry knowledge and experience to the engineers I worked with as an apprentice.
Being proactive and gaining hands-on experience in the field is one of the best ways to learn and prove your passion.
That's why at Red Rooster I am particularly proud of our apprenticeship scheme.
One of our longest- serving team members started as an apprentice 25 years ago. The support from colleagues and senior staff at Red Rooster Lifting also never goes unnoticed. They play a major part in our ongoing success.
What has been your biggest mistake?
Setting up a new production facility just before the downturn was a worrying time. However, I would not consider it a mistake.
We learned a lot during this time, got our heads down, pushed through and maintained our consistently high levels of service.
What is your greatest achievement?
Staying positive and working hard in a difficult period for the supplier industry. I am proud to have been at the helm during this time and for managing to keep Red Rooster Lifting profitable.
If you were in power in government, what would you change?
So many things. The likelihood of us leaving the EU will have a severely negative effect on the supplier industry.
Many of our partners elsewhere in Europe will find it difficult to continue to do business with us, but until things become clearer it's hard to judge the effects.
What do you still hope to achieve?
The Red Rooster name and service is well-known in the UK and several parts of the world, but we have plans to expand further in Europe, the Middle East and America.
We recently announced a new partnership to provide direct sale and rental of pneumatic hoists in the United Arab Emirates, Saudi Arabia and Qatar.
What do you do to relax?
I enjoy playing golf and going for long walks. Scotland is a great place to live for both, so I try to embrace having beautiful scenery on my doorstep as much as possible.
I also enjoy reading and carrying out some DIY if needed.
What are you currently reading, listening to or glued to on the TV?
I'm reading Billy Connolly's Made In Scotland: My Grand Adventures In A Wee Country. It's an excellent read, with lots of interesting information on his life.
What do you waste your money on?
I like dining out and enjoying a glass or two of wine. I'm also partial to a whisky dram.
How would your friends describe you?
I hope my friends would describe me as loyal, supportive and good fun.
What would your enemies say about you?
I would like to think I have not made enemies. I believe in treating people with respect and in the way I would like to be treated in return.
It can sometimes be difficult not to ruffle a few feathers in business, but I believe in a justified and fair approach to everything.
What do you drive and dream of driving?
I drive a BMW 320d M Sport, and in the future I would like an electric car like a Tesla X.