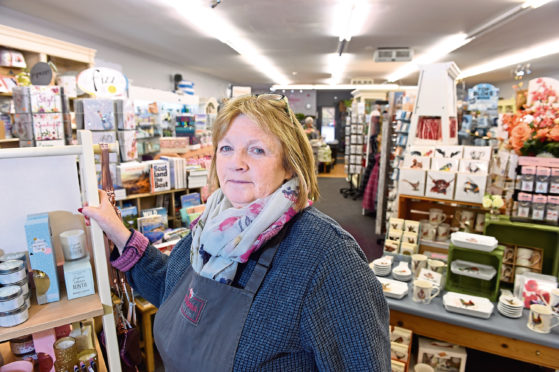 Each week, we ask small businesses key questions. Here we speak to to Carolyn Wilson, owner of Victoriana Florist & Gifts and three other shops in Alness.
How and why did you start in business?
I have lived in Alness most of my life. Thirty-one years ago, living on our farm at Dalmore and with young children to raise, I looked for an additional source of family income and opted for a farm shop. Starting with £400 of stock, the business soon grew and I decided to move to Alness High Street and open Victoriana.
How did you get to where you are today?
The Alness of those days was very different to today. The closure of the Invergordon aluminium smelter in the early 1980s resulted in 890 job losses and hit the town very hard. When Victoriana opened the town and its high street were in the doldrums.
I care passionately about my community and it was obvious that we had to act to save Alness for everyone's benefit. I was delighted to join other businesses, the community as a whole and public agencies in a bid to turn things around. It worked and over the years, led by the business community, we have transformed our high street into a great place to shop, socialise, enjoy special events, and relax.
We've won numerous confidence-building accolades along the way – Britain in Bloom and the Scottish high street of the year 2018 – as well as regeneration and environmental improvement awards.
As the High Street as a whole has become more vibrant, so have its individual businesses and the success has helped everyone, not least me.
Today, with the support of countless loyal customers, I own four shops – Victoriana Florist & Gifts, Victoriana Clothing & Accessories, Victoriana Shoe Room and The Larder delicatessen.
It has not been easy, but with hard work and enthusiasm I have overcome the challenges.
Who helped you?
I would have achieved nothing without the incredible commitment and loyalty of my amazing staff, a really talented group of people that includes my daughters, Katie and Jennie.
The Federation of Small Businesses is always there to provide cost-effective services, and to discuss issues and give sound advice.
What has been your biggest mistake?
No big mistakes but things that could be done better, and I enjoy being reminded I am not always right.
Buying in goods to sell is the riskiest activity, and sometimes so-called sure-fire hits turn out to be duds, still sitting on shelves months later.
What is your greatest achievement?
Being part of the award-winning community team that continues to transform Alness.
If you were in power in government, what would you change?
I would introduce a national policy to ensure that parking remains free in small towns and rural communities. Free parking is essential to sustaining vibrant retail environments and, as a Highland councillor, I am doing all I can to help maintain it in Alness.
What do you still hope to achieve?
I feel very content that my business is now on a sound footing, although I am always looking for improvements and opportunities.
The younger generation have lots of good ideas and I want to encourage them to see these implemented
What do you do to relax?
I never really relax or sit still for long, but love being in my garden and greenhouse, spending time with my six grandchildren and baking.
What are you currently reading, listening to or glued to on the TV?
I love all kinds of music, but traditional Scottish in particular. Also good brass or military bands, and church music played well on the organ.
My reading tends to be limited to monthly trade magazines as I scan them for new trends and exciting new products.
What do you waste your money on?
Every penny is a prisoner as far as I'm concerned, although I think most folk would say I'm generous with what I have.
How would your friends describe you?
Hard-working, focused and committed.
What would your enemies say about you?
Impatient, jumps too quickly to conclusions and doesn't spend enough time listening.
What do you drive and dream of driving?
I drive an eight-year-old Volvo XC60, which I love too much to replace. I have no dream cars.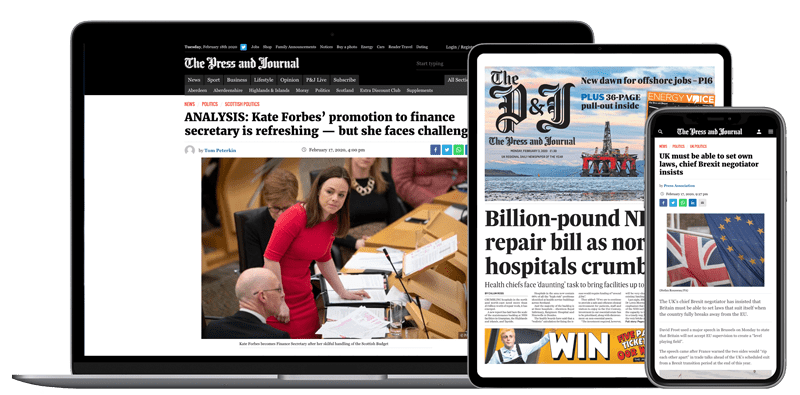 Help support quality local journalism … become a digital subscriber to The Press and Journal
For as little as £5.99 a month you can access all of our content, including Premium articles.
Subscribe