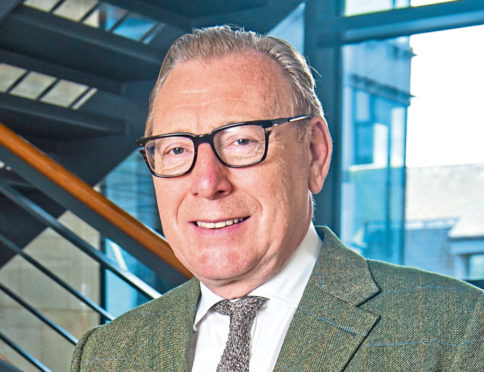 Anderson Anderson & Brown (AAB) Wealth has appointed financial services industry heavyweight Benny Higgins as its first non-executive chairman.
Mr Higgins is a former chief executive at Tesco Bank and has held senior roles in the sector over the past 30 years.
He was CEO of Tesco Bank from 2008-2017, having previously headed up retail banking and wealth management at Royal Bank of Scotland (RBS) and NatWest. He left RBS/NatWest for Bank of Scotland owner HBOS, where he was chief executive of retail banking.
His other current jobs include his role as strategic adviser to First Minister Nicola Sturgeon on the creation of the Scottish National Investment Bank.
He is also executive chairman of Buccleuch, the Edinburgh-based holding company for property and land owned by the Duke of Buccleuch and his family.
Asked what attracted him to the non-executive chairman's role at Aberdeen-based financial planning firm AAB Wealth, he said he was joining a "highly respected professional firm with ambitious growth plans, a highly able executive team and, most importantly, a real focus on serving clients well with adherence to strong values".
He added: "The potential to nurture this business to a level where it is considered one of the best providers of financial planning in the country is palpable."
AAB Wealth chief executive Fraser Porter said: "I'm delighted to welcome Benny to AAB Wealth. His depth of experience, strategic vision and extensive network will be invaluable to the board.
"It's an exciting time for the business as we now have an established presence in the Central Belt, a first-class team and a good platform to grow across Scotland."
In addition to several recent new hires, AAB Wealth has created a senior leadership team tasked with the day-to-day running of the business and implementing its growth plans.
Mr Porter said: "It's not just about hitting financial targets, it's about growing a valuable, sustainable business in the right way.
"This is borne out by our client retention rate, which exceeds 97%, and the business continuing to add significant new client levels at a rate of one new client per week."
AAB Wealth – part of the AAB financial services group – has assets under advice approaching £350 million.
The firm is targeting income in excess of £3m for the current financial year.
AAB Wealth was created in 2011, when AAB, based at Prime Four business park at Kingswells, added wealth management to its services. It now has offices in Aberdeen, Edinburgh and London.