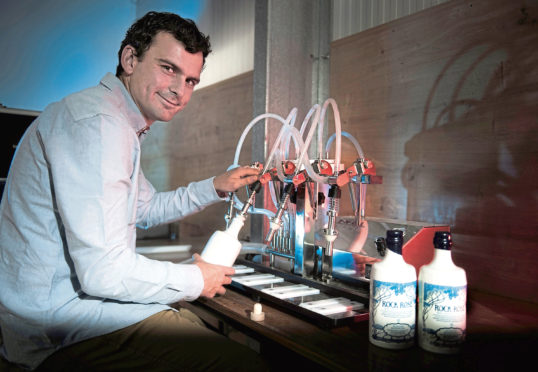 A free event is taking place in Inverness next for businesses interested in exporting to the US.
Highlands and Islands Enterprise (HIE) is running the one-day seminar in partnership with the Scottish North American Business Council (SNABC).
The US is Scotland's biggest international market, with exports to the States worth £4.6 billion a year, accounting for 16% of all activity.
At the workshop Martin Murray – co-founder of Caithness-based Dunnet Bay Distillers, which produces Rock Rose gin –will share his experience of starting to export to the US.
Mr Murray's firm has received support from HIE and Scottish Development International (SDI) to enter a variety of markets across the world.
Rock Rose is now exported to 15 countries worldwide and turnover has increased 50%.
Mr Murray said: "There are so many factors to take into account when exporting to the US. For example, we had to get label approval, recipe approval and change the size of our bottles to meet requirements. Added to that, different states have different rules.
"You are required to have both an importer and a distributor, and you must take into account logistics such as shipping and the currency exchange rate, so it is not a straightforward market to enter.
"HIE provided support to help us understand the different criteria to take into account and helped us to crystallise our strategy ensuring we put our best foot forward, whilst SDI was instrumental in linking us up with distributors in the US that had an interest in Scottish craft gin."
He added: "Exporting to the US has been great for our business; it is our biggest export market, and we are now selling Rock Rose in 17 states. We haven't even been in the market for 12 months yet and so we are still in the early stages of our journey, but it is safe to say the opportunities are endless."
The seminar, on Wednesday November 20, has a mix of presentations, panel discussions and case studies from successful exporters.
Delegates will get the opportunity to have one-to-one meetings with industry and in-market specialists who will provide advice on how to plan and establish international trading partnerships.
A breakout session for tourism businesses will give an insight into potential in that sector, which accounts for 20% of overseas visitors to Scotland.
Siobhan Rieley, market manager for the Americas at VisitScotland, will give an overview of the US market, and a case study will be delivered by Johnstons of Elgin operations manager Stewart Marshall.
Martin Johnson, interim director of strategy and regional economy at HIE, said: "This informative session will help businesses identify buoyant sectors and plan out routes to market.
"With experts providing advice on financial, tax and legal considerations, including tariffs, attendees will get a full picture of how to make exporting dreams a reality.
"We have a strong line- up including speakers from the US Government, SNABC, accounting firm RSM, commercial law firm Burness Paull, tax and financial services consultancy US Tax FS, business services consultancy Newable Avitus as well as state representatives from Ohio and Pennsylvania."