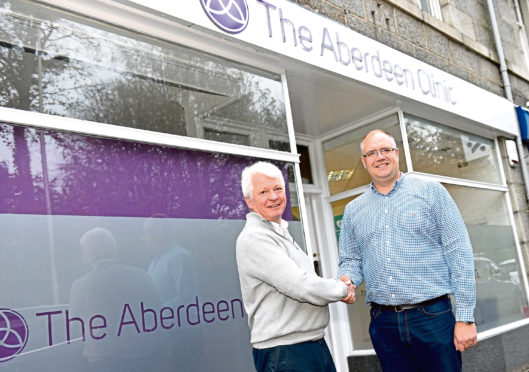 The Moray-born healthcare technology entrepreneur behind English firm C7 Health has struck a £1.5 million deal to buy a thriving business in his home city of Aberdeen.
Phil Webb launched C7 Health, based in Henley-In-Arden, near Birmingham, just last year.
Its latest acquisition –the second to date – gives it 100% ownership of TAC Healthcare Group, trading as The Aberdeen Clinic, which was launched in 1994 to provide a "patient-focused" service in the private sector.
TAC clinical director Ken Park, who four years ago quit his consutant surgeon's job with NHS Grampian to focus on Cults-based TAC full time, said the deal boosted prospects for growth.
"We realised that for us to grow we needed to attract significant investment," Mr Park said, adding: "We are now in a position to expand what we are doing."
One of his ambitions is to ramp up the amount of work TAC carries out for the NHS, which he said would help to relieve some of the pressure facing public sector healthcare.
Another is for TAC, which also has oil and gas firms among its clients, to invest in a bigger facility in Aberdeen.
Chief operating officer Alena Duncan said the current premises on North Deeside Road "restrict the procedures we can do".
The firm was considering an expansion to Dundee before C7 Health stepped in with its investment.
In addition, TAC aims to grow its occupational health services across the north-east and beyond.
The £3m-plus a year turnover business has 20 permanent employees and more than 200 "bank staff" consisting of specialists including GPs, surgeons, physiotherapists, dieticians, counsellors and nurses.
Its new owner specialises in "transformational technology" for the healthcare sector.
C7 Health's first acquisition, last November, saw it snap up Birmingham firm Diagnostic World for £2.4m.
Mr Webb's past roles include a spell as chief technology officer for Emis Group, the biggest healthcare software provider in the UK.
He was born and raised in Elgin before going off to Robert Gordon's University to study computer science.
Despite a nomadic career post-graduation, his home nowadays is on Great Western Road, Aberdeen, meaning a long distance commute at the start and end of every week.
The former Elgin Academy pupil said TAC was a "good fit" for C7 Health. "The reason we did the deal was to add the capability and recognised potential of the business in Aberdeen, and to build a significant presence in the city and elsewhere," he added.
C7 Health aims to improve inefficiencies in healthcare services by reducing the number of manual processes involved.
The company is funded by Mercia Asset Management, alongside investments by the founder, Mr Webb, and wealthy private backers.
Its chairman is Shaun Chilton, chief executive of global pharmaceutical and services company Clinigen.