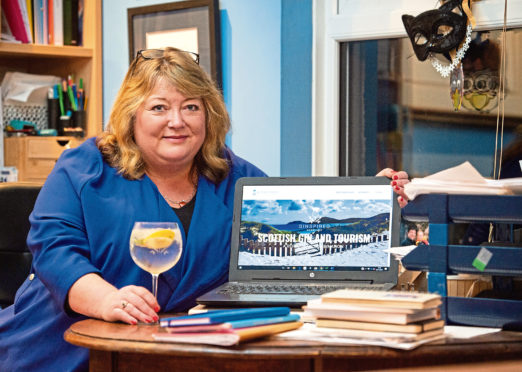 Each week, we ask small businesses key questions. Here we speak to Liz Robson, owner and founder of Ginspired Scotland, which she runs from her home in Aberlour
How and why did you start in business?
I've always wanted to run my own tourism business, probably because I'm a real bossy-boots, so when circumstances allowed I knew I had to try, or I'd always regret it.
How did you get to where you are today?
I worked for a major drinks company for more than 20 years, in a fabulous job creating exciting Scotch whisky brand experiences for customers, media guests and salespeople from around the world.
I used the distilleries, alongside the culture, history and landscapes of this beautiful country, to send our guests home full of passion for the brands they were working with, growing sales as a result.
As I watched the emergence of new gins across Scotland it struck me they had become more widespread than whisky, and there was a developing opportunity in tourism for the Scottish gin category.
Changes in my company structure meant I was offered redundancy. Seeing the time for self-employment had come, I grabbed the opportunity.
Redundancy meant I had time to research and consider my options. As well as self-employment, I'd always wanted to offer our home to a child in need of foster care, so we completed training and took on our first.
We also owned a property which I wanted to turn into a holiday let, so some of that year was spent setting up Woodburn Cottage, which is now really successful.
I was also talking to gin producers, visiting many of them, looking at various business models and speaking to industry stakeholders, both in gin and tourism, to establish what was needed and what would best combine my skills and experience with the needs of the market. My website – ginspiredscotland.com – was born out of that and launched at the end of October.
Who helped you?
I have had so much help I hardly know where to begin. I started with Moray Speyside Tourism, who quickly put me in touch with Business Gateway and other local contacts.
Moray Business Women are amazing. It's so energising to be in the company of strong women who are working hard to make a difference. They generously give their time and expertise to help each other, and we have great fun too.
I joined the Federation of Small Businesses as I'd heard of all the benefits it offered. It's been really helpful, and I would recommend it to any new or existing business.
I've found total support for Ginspired from the gin producers and wider industry. Gin-makers know Scotland's visitors are a valuable market, but most are still small unfamiliar brands without the resources to go after these customers. They've welcomed my website to deliver the benefits to them.
Family has helped me tremendously, especially my husband, Jeff, who's a complete star. Our son, Joe, was also a great supporter, and his girlfriend, Rachael, too.
Joe died in April and our lives will never be the same again, but I know he is right beside me as I push Ginspired forward. Not long before he died, I was having a confidence wobble and he made me promise to keep going as he believed in the concept so strongly.
Friends have been amazing through everything this year, while the community around us has been a huge source of strength.
I have recently been joined by Sarah Teunion – her attention to detail and enthusiasm for the business is a great asset. It's lovely to have a colleague again.
What has been your biggest mistake?
Too many to mention but, hopefully, I'm learning from them.
What is your greatest achievement?
Business is important but bringing up a child, surviving the loss of a loved one and helping others to do the same are all much more important.
If you were in power in government, what would you change?
Our NHS is wonderful, but services sometimes operate in silos which don't communicate with each other, leading to blockages, delays, and increased costs.
Hard-working staff could quickly spotlight the many frustrating inefficiencies they encounter.
What do you still hope to achieve?
I designed ginspiredscotland.com to make it easy for visitors to find Scottish gin-makers, and to include visiting or buying from them in their holiday plans.
My ambition is to make gin a valuable part of Scotland's tourism menu, which will also benefit local businesses and the economy as a whole.
What do you do to relax?
I have a wild, crazy Labrador pup – not exactly relaxing but I like playing with her.
What are you currently reading, listening to or glued to on the TV?
I've not a lot of time for either, but I do try to stop for Pop Master on Radio 2.
What do you waste your money on?
Shoes, but don't tell Jeff. I also buy Scottish gin but I don't consider that a waste.
How would your friends describe you?
Warm, funny and slightly nuts, but also very loving.
What would your enemies say about you?
I don't think I have any but if I do, I hope they'd be a little bit scared as I can be quite fierce.
What do you drive and dream of driving?
I'm lucky enough to have a Mercedes ML250, which is a bit posh. I bought it myself but, as it's a very capable 4×4, it has become the family workhorse towing Jeff's trailer and getting us out in the snow.
Jeff tells me that Aston Martin has just made a 4×4. Perhaps it could be my car one day.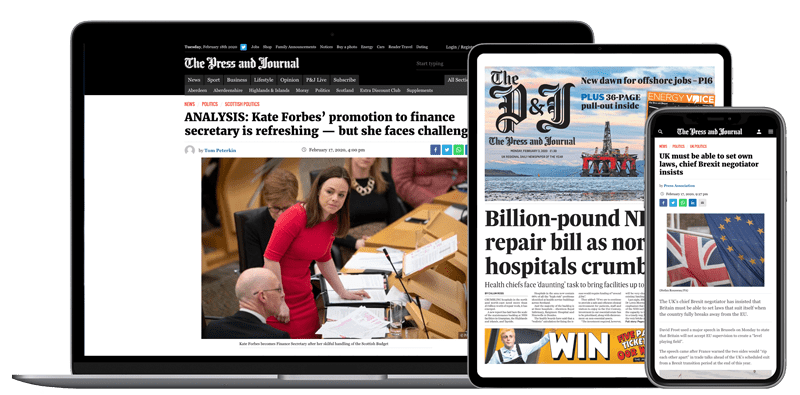 Help support quality local journalism … become a digital subscriber to The Press and Journal
For as little as £5.99 a month you can access all of our content, including Premium articles.
Subscribe