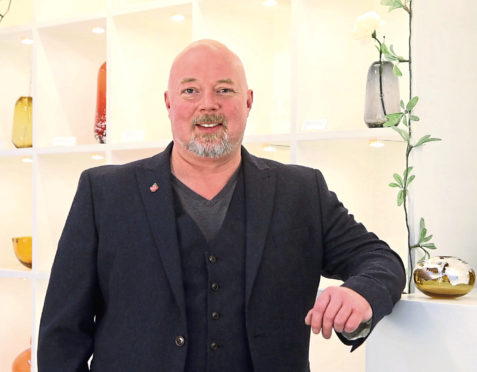 Each week, we ask small businesses some key questions. Here we speak to Brodie Nairn, director of Tain-based companies Glasstorm and North Coast Glass
How and why did you start in business?
When I left art school, self-employment was the last thing on my mind, as was having my own glass studio.
My mother and father were well-known in their own fields, father as a potter and mother as a knitwear designer, and as a small child I saw how tough self-employment can be – and decided that working for others was a lot more appealing.
Nichola Burns, the love of my life, and I met at college before spending the next 10 years living abroad, me working as a glassblower for some of the most important contemporary glass artists.
I then became the studio manager at Northlands Creative Glass in Lybster, Caithness, a worldwide centre of excellence. I really missed the designing and making of glass, so Nicky and I decided to establish our own studio. Two-and-a-half years later, in 2005, we opened Glasstorm in Tain.
How did you get to where you are today?
Insistence on the highest quality throughout, great attention to detail and a refusal to compromise on quality. We only use the finest glass and we only use it once, and everything is checked and checked again to make sure it is perfect.
Today we have two brands: North Coast Glass, which handcrafts contemporary tableware items – its Christmas bauble in a box is going down a storm; and Glasstorm, which specialises in luxury vessels for the drink industry and high-end awards. We design and make some of the most prestigious whisky bottles on the market.
Who helped you?
Our families have helped from the start, and now, with young children of our own, they help us to keep the business's wheels rolling in the holidays.
We have been members of the Federation of Small Businesses from the very beginning, and it really is a fantastic source of information and advice, usually just a phone call away.
What has been your biggest mistake?
It was in 2005 and at the grand opening night of our new glass studio and gallery. Our caterer warmed the vol-au-vents in our super-fast, extremely hot industrial glass oven, and 20 minutes later we were serving small black rocks.
Otherwise, it's taking on more work than is sensible. When times are lean small businesses tend to take on more and more work to survive, only to then realise they have accepted too much.
Establishing a good work-life balance is essential and the solid team that works for us now makes a huge difference.
What is your greatest achievement?
Our two children, Ruby and Angus, are the light of my life and bring a smile to my face.
If you were in power in government, what would you change?
I hate people who don't clean up after their dogs. We have a small dog and take the responsibility very seriously. If you won't clean up after yours, you shouldn't have one.
What do you still hope to achieve?
To help raise the profile of this magnificent region – the Highlands is such a great place to live and work. We have numerous high-quality producers and we need to create even more great "destination businesses" to enhance the experiences of both visitors and locals.
What do you do to relax?
Trips around Scotland by motorbike. Last month, Nicky and I had a night in Dunkeld before heading up Glenshee, over the Lecht and home. The weather was sunny, the autumn leaves were on full turn, and everything was orange and yellows – fantastic.
What are you currently reading, listening to or glued to on the TV?
Currently, it's Vampire Weekend and watching Strictly Come Dancing with the family in front of the fire.
What do you waste your money on?
We love our food and drink and invest heavily in olive oil and gin, but that's not wasting money is it?
How would your friends describe you?
Works hard but likes a good laugh too.
What would your enemies say about you?
What enemies?
What do you drive and dream of driving?
I drive our comfortable works van, while Nicky uses an old Saab that never gives up. I'd love a flying car, but there will be nothing new until the kids stop filling the Saab up with sand, dirt and crumbs.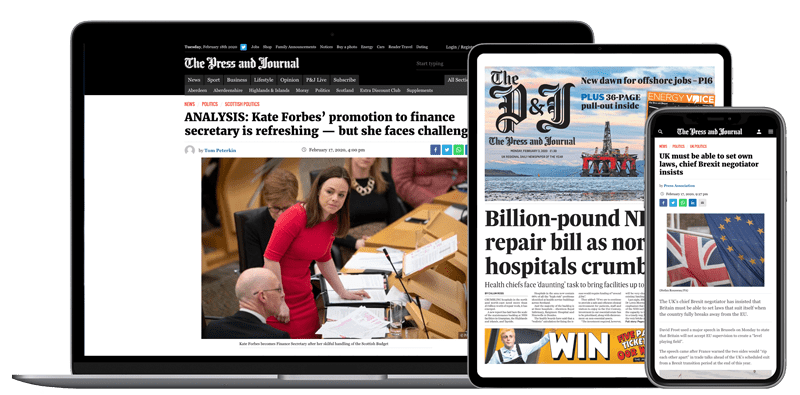 Help support quality local journalism … become a digital subscriber to The Press and Journal
For as little as £5.99 a month you can access all of our content, including Premium articles.
Subscribe