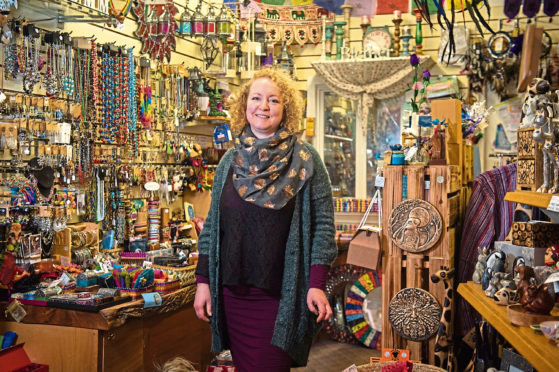 Each week, we ask small businesses some key questions. Here we speak to Moray-based retailer Laura Hanson, owner of Babalu gift shop in Forres
How and why did you start in business?
I set up Babalu in 2007 shortly after moving to Scotland from Peterborough. I had always wanted to be my own boss, and when my friend Sue Rey closed her gift shop she had spare stock looking for a home. It was the opportunity I was looking for. I paid Sue for the stock as it sold and I've grown the business from there.
How did you get to where you are today?
It's all down to wonderful customers. If they are looking for something I don't stock and I point them to where they may get it, they often say: "Aww, I wish I could buy it from you."
Without that sort of dedicated customer I would have been closed a long time ago.
Who helped you?
So many people over the years. Sue not only helped with stock but also with solid business advice. My first landlord let me lease the building year-by-year until we outgrew it and moved to 68 High Street, where I have an equally wonderful landlord. Pearl Hamilton, of Pearl's Pet Care, has been my business guardian angel and a good ear to bend. We are both members of the Federation of Small Businesses – Pearl is very much involved, so has been able to give me very useful advice.
My husband, Richard, has been underpaid and overworked for years just to keep my lovely little shop going. Then there's family and friends who helped us move premises overnight, or covered the shop when I needed a break.
What has been your biggest mistake?
Not being more 'on it' with the numbers – I'd be useless on Dragons' Den. I'm sure I could have been way more savvy over the years, and saved myself some money.
What is your greatest achievement?
Staying open during the recession, especially as we hadn't been open long. We held on tight and saw a steady increase in business.
With a definite change in the high street and shopping habits, it's been important to adapt. I like to think we have done that well.
If you were in power in government, what would you change?
I would give the NHS as much of a boost as possible. It feels like every year it gets fewer resources and is expected to deliver more services. The staff are under so much strain and it's a shame to see such a wonderful service suffer.
What do you still hope to achieve?
I say every year that I'll get my head around a website and set up online sales, but I'm not sure it will ever happen. The thought of listing all my stock puts me off every time.
There has been so much uncertainty recently as well as rising costs, so maybe just getting through the next few years would be good enough.
What do you do to relax?
I love spending time with my dogs as they make me smile every day. We love Roseisle, Findhorn Beach and Loch Garten – a walk in any of these places on a nice day can be the antidote to stress.
What are you currently reading, listening to or glued to on the TV?
My favourite book is Water for Elephants so if anyone knows what my next read should be, then please let me know. There is nothing currently holding my attention on TV, maybe it's the time of year?
I could watch Pushing Daisies on repeat. I want all of Anna Friel's outfits from the show.
What do you waste your money on?
I wouldn't say it's always a waste, but I like to buy silly games from charity shops and take them to friends' houses.
Sometimes we find real gems but don't manage to get past reading the instructions.
How would your friends describe you?
Mostly chilled out but a few have seen my feisty side. I would like to think they would say I'm generous too. I'm also well known for my laugh, which apparently helps people find me in a crowd.
What would your enemies say about you?
If I have any, they may have been the ones on the other side of a rare feisty moment.
What do you drive and dream of driving?
So far, only a driving instructor's car – I'm a late learner due to anxiety. I have, however, found the loveliest driving instructor in Elgin, Rhona Leslie, who has helped me face my fears.
Hopefully, I'll pass early next year and then whatever I drive will be a dream car.