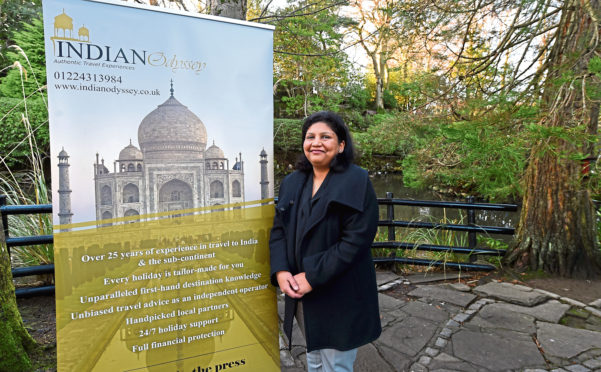 Each week, we ask small firms key questions. This week we speak to Rakhi Bansal, the founder and director of Aberdeen-based tour operator Indian Odyssey.
How and why did you start in business?
The idea sprouted in 2004 when my husband, Vivek, and I were brainstorming ideas for what I could do if I gave up my job as a business development executive at a training firm in Aberdeen.
I grew up in the city of Ambala in north India and my passion for travel was evident from childhood. I was fortunate enough to visit many places in such a huge and wonderful country.
When Vivek came to meet me in 2000 I took him on a quick introductory trip off the beaten track. I guess it challenged his stereotypical idea of India and the experience seemed to have brought us on to the same page during our brainstorming.
We wanted to challenge the narrative of what other tour operators were offering – the ubiquitous beach holiday to Goa or visit to the Taj Mahal.
The Indian sub-continent has a lot more to offer and we wanted to provide novel experiences. From those initial ideas, Indian Odyssey was born.
How did you get to where you are today?
During the early days we spent a lot of time doing the necessary research; going on familiarisation trips to gain first-hand knowledge and staying up-to-date with suppliers.
It's important we have the right people on the ground to make sure clients have an extraordinary holiday experience without annoying logistics and tourist traps.
Our business offers tailor-made holidays to India and the sub-continent, and our expertise has been well-trusted for more than a decade by our clients – mainly couples, families and groups, many of whom have repeatedly travelled with us.
Who helped you?
Family and friends have supported me throughout the entrepreneurial journey.
Last year I approached Business Gateway in Aberdeen and found valuable support from my business mentor, along with the other experts.
I also recently joined the Federation of Small Businesses (FSB), and enjoy a wide range of services and benefits which have already proved to be extremely valuable.
What has been your biggest mistake?
Being an entrepreneur, you can find yourself dealing with the unknown alone. I should have contacted Business Gateway and the likes of FSB much earlier. From my engagement with both it is clear that you are not alone, and there is support out there to help you achieve your ambitions.
What is your greatest achievement?
For seven years we were the preferred travel partner of the Arts Society. We operated group tours to India, Nepal and Bhutan, led by renowned historians, for society members.
If you were in power in government, what would you change?
I would aim for better access to funding opportunities for early stage businesses. I would also like to see a reduction in air passenger duty, making travel more affordable to not just India but also other long-haul destinations.
What do you still hope to achieve?
To continue growing the business, and to become a more established tour operator to not only India but the wider sub-continent.
What do you do to relax?
Travelling does, of course, play a part, but I also enjoy simply going for a long walk or watching a movie. If a popular Bollywood movie is playing in Aberdeen, I don't miss it.
What are you currently reading, listening to or glued to on the TV?
On TV I'm currently glued to Death in Paradise, and my reading list often includes the latest Conde Nast Traveller, National Geographic Traveller and Food and Travel magazines.
What do you waste your money on?
Fine wine and an indulgent weekend break towards the end of my budget research trips. Hardly a waste though.
How would your friends describe you?
Trustworthy, dedicated and fun-loving.
What would your enemies say about you?
She took my job.
What do you drive and dream of driving?
I drive a very reliable Mazda but would love a customised 4×4 for a long, self-driven road trip. It's something to work towards.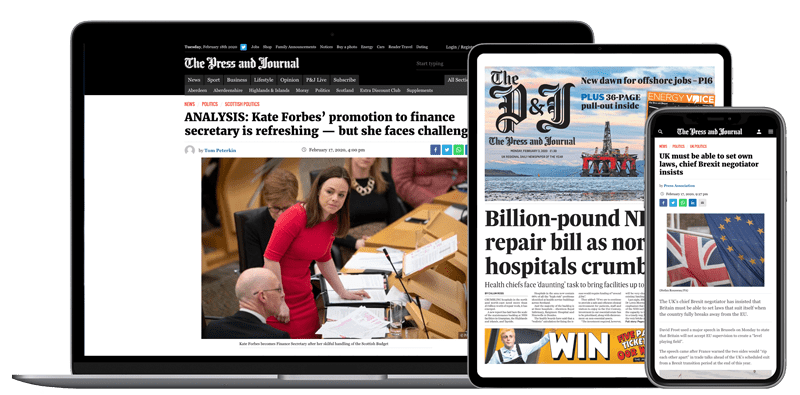 Help support quality local journalism … become a digital subscriber to The Press and Journal
For as little as £5.99 a month you can access all of our content, including Premium articles.
Subscribe