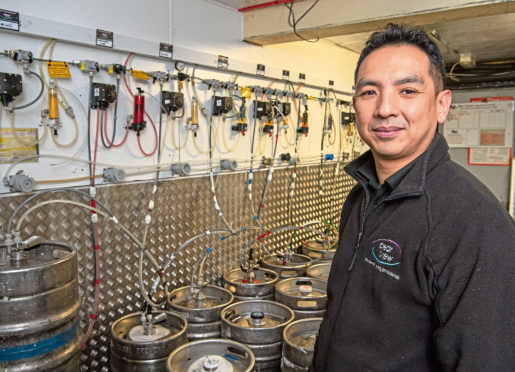 Each week, we ask small businesses key questions. Here we speak to Wai Yan Tsang, the proud owner of a Clear Brew franchise based in Fort William
How and why did you start in business?
I was born in Cornwall, spent my childhood in Staffordshire and studied design in south Wales before moving to the Highlands for work.
My self-employed parents were the perfect role models, teaching me that only by working hard can you get what you want, and to look after money wisely and avoid obvious vices like gambling and excessive drinking.
When a project that I was a partner in failed a few years ago, I stopped and re-evaluated my direction and future. Where did I want to be and how was I going to get there?
I wanted to be self-employed and stumbled across the Clear Brew business model while searching through franchises – a perfect fit. I enjoyed self-employment, was experienced in catering and, after talking to Clear Brew's managing director and some training, launched my own business. Clear Brew ensures that lines are kept spotless so that beer comes out of bar taps perfect every time.
How did you get to where you are today?
Work hard, play hard is my mantra. I stay positive and always remember I'm doing it all for my family. The Clear Brew team feels like a second family – everybody is supportive and we are all working towards a brighter future.
Who helped you?
It is always nice to feel you are not alone in business, especially when the buck stops with you, and I owe so much to my family and friends.
I recently joined the Federation of Small Businesses (FSB) because it provides a non-intrusive shoulder to lean on when you need advice and so much more. The banks can offer nothing like it.
Clear Brew HQ is also amazing. Support is available 24/7 and you never feel alone, even though 90% of your working day is spent alone. Some say franchises only work in favour of the original owner, but for me it's win-win.
Finally, my partner, Katy, has been a rock. I am so lucky to have her support.
What has been your biggest mistake?
Letting a client take advantage of me. I work hard, expect to be paid for my work and don't expect a company to decide not to pay up after receiving my service for months. The FSB is coming to my rescue with its debt recovery service, and I hope to get what I'm due. Lesson learned though.
What is your greatest achievement?
Building a business from the ground up. While I knew the Clear Brew model worked, I started with zero clients and no structure, and had to convince people that new ways can be better than the traditional. I felt very proud when one of my clients told me that his Guinness was the best he'd tasted in more than 20 years.
If you were in power in government, what would you change?
Nobody should live in poverty and unhealthy conditions. We must invest more in our children – this nation's future – through schools, hospitals and houses, and less in things like HS2 (high-speed rail project). I would also declare apple crumble and custard the national dish.
What do you still hope to achieve?
To make my business even stronger by working hard and helping my clients do the same. We all need to be strong to flourish.
What do you do to relax?
I'm on my feet all day so love chilling in front of the TV. I also love motorbike trips and scuba diving. Nothing is more zen than swimming 25 metres (80ft) down into a Scottish loch.
What are you currently reading, listening to or glued to on the TV?
I watch sci-fi or action films and series on TV like The Mandalorian, and listen to true crime podcasts while driving to jobs – very sobering.
What do you waste your money on?
Motorcycling is not cheap, but I spend very little and we all need an escape from time to time.
How would your friends describe you?
Fun, happy, kind, loyal and the centre of their universes, I hope.
What would your enemies say about you?
I live a quiet life and don't think I have any.
What do you drive and dream of driving?
My combie works van is perfect and doubles as a kiddie wagon. Katy and I share an Audi A5, and I have my adventure motorbike. As a petrol-head, I'd love either an Aston Martin or Jaguar F Type v8.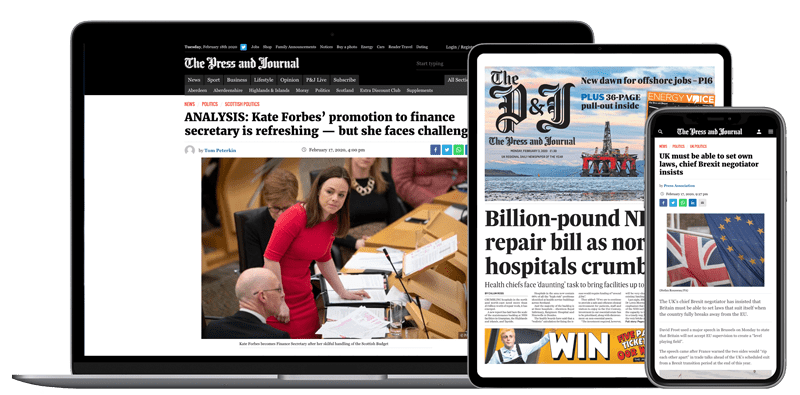 Help support quality local journalism … become a digital subscriber to The Press and Journal
For as little as £5.99 a month you can access all of our content, including Premium articles.
Subscribe