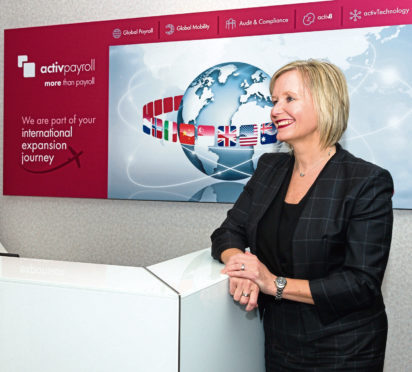 Private equity firm Tenzing has acquired a 45% stake in Aberdeen headquartered activpayroll for an "undisclosed sum".
Founded in 2001 by CEO Alison Sellar the firm is seen as a leading global professional service organisation, providing services to more than 1,000 companies across 140 countries.
With offices in Australia, Singapore, Dubai, South Africa, Germany, France, the UK and the USA activpayroll says it has one of the most experienced international payroll and expatriate tax teams in the world.
Last year activpayroll reported a turnover of £20.8million and pre-tax profits of £6.8m for the year ending March31, 2019.
Tenzing is an independent private equity firm, based in London, that targets investments in high growth businesses, across the UK and Ireland.
Founded in 2015, the firm invests in niche market leaders and challenger businesses across a broad range of industry sectors and says it believes in supporting, inspiring and investing alongside high energy, high performance management teams with which it has a shared vision.
Tenzing said it has backed activpayroll's senior management team, led by founder Ms Sellar and COO Euan Sellar. The firm said Tenzing's investment, its team and its Entrepreneurs Panel will support the company with continued technical product development, investment in sales and developing its acquisition and international strategy, to ensure the business continues to expand and remains at the forefront of the global payroll market.
Ms Sellar said: "Over recent years activpayroll has expanded significantly whilst maintaining an extremely high level of customer satisfaction and this must be attributed to the activpayroll team. We look forward to working in close cooperation with the Tenzing team and accessing their growth eco-system to continue the exciting activpayroll journey."