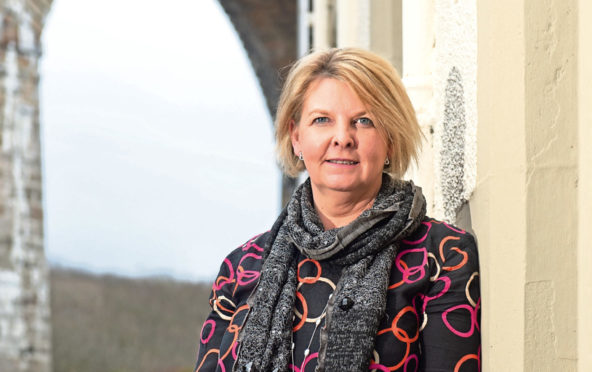 Each week, we ask small businesses key questions. We speak to hotelier Caroline Ronald, who owns and runs the Royal Oak in Cullen, on the Moray Firth coastline.
How and why did you start in business?
I went into business in my early 20s, doing farmhouse bed and breakfast on a hill farm that my husband and I leased on the north shore of Loch Lomond.
After six years we took on a better farm on the outskirts of Oban. After seeing the potential of being near a town and in a tourist area I opened a shop, selling produce from the farm and other local food products. It developed into an on-site butchery, bakery and mail order business.
Being self-employed gave me the flexibility to raise my two sons. I didn't miss out on their first step or word, and was always able to take them to school, and to all their clubs and activities.
How did you get to where you are today?
A very good friend was selling the hotel and I could see the possibilities of a good business, with both a roadside and beachside location.
I had gained a lot of experience working for my parents from a young age, including making beds at 10 years old.
In addition, working in various roles in the hospitality industry, livestock farming and retail has given me a great deal of insight into running my own business.
Who helped you?
My late parents were both encouraging and inspirational.
I have had a lot of support from my wonderful family, and some very good friends have shared their experiences and knowledge of the industry.
My accountants, McKay and Co, have been very helpful and the Federation of Small Businesses has been invaluable with advice on HR, events and networking.
What has been your biggest mistake?
Not getting back into the hotel industry earlier. It's in my blood. I do miss farming but this is where I can be creative.
What is your greatest achievement?
Graduating with a BSc degree in rural development studies, while raising the children and running my own business.
If you were in power in government, what would you change?
High street rates are killing town centres. If rates were abolished, there would be more businesses flourishing and more employment. The government would get their lost revenue through income tax, while saving on benefits.
What do you still hope to achieve?
Cullen skink needs to be on everyone's bucket list.
I have a superb team of people around me who are all striving to make the hotel a welcoming place for customers and a happy place to work.
Along with other local businesses, we are working collaboratively to get Cullen Seafood Festival off the ground at the end of September.
I have just become a director of Moray Speyside Tourism Bid (business improvement district) and am very excited to work with others to develop tourism in the area. I would also like to help encourage people into the hospitality industry, and promote the development of skills in the kitchen and front-of-house.
What do you do to relax?
I enjoy travelling with friends, skiing, spending time with my horse, donkey and dogs, and playing golf with the lovely Cullen Ladies. I love seeing new places, tasting new food and meeting new people.
What are you currently reading, listening to or glued to on the TV?
I'm decorating my new house, so reading lots of interior magazines.
I love a good murder mystery, biographies and cookery books. I have an eclectic taste in music – anything from Johnny Cash to Mozart. I also love a good period drama and Dragons' Den, and tend to binge-watch on Netflix. I am a huge fan of Pinterest, and get lots of inspiration from there for interior decoration and menu ideas.
What do you waste your money on?
After farming on the west coast for 30 years I have learned to be quite frugal. However, I do love to buy Lonely Planet books for countries I have yet to visit.
How would your friends describe you?
I would like to think that I am loyal, humorous, supportive and generous.
What would your enemies say about you?
I don't think I have any but if I do, I am not worried.
What do you drive and dream of driving?
I drive a Subaru XV and my dream car would be an Aston Martin Vanquish Zagato Coupe.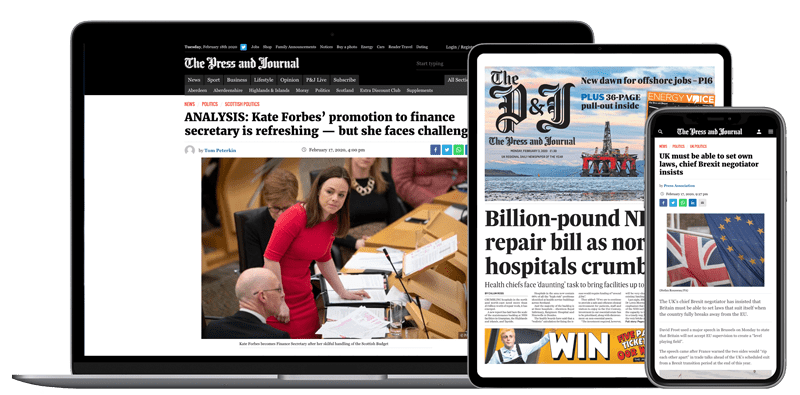 Help support quality local journalism … become a digital subscriber to The Press and Journal
For as little as £5.99 a month you can access all of our content, including Premium articles.
Subscribe