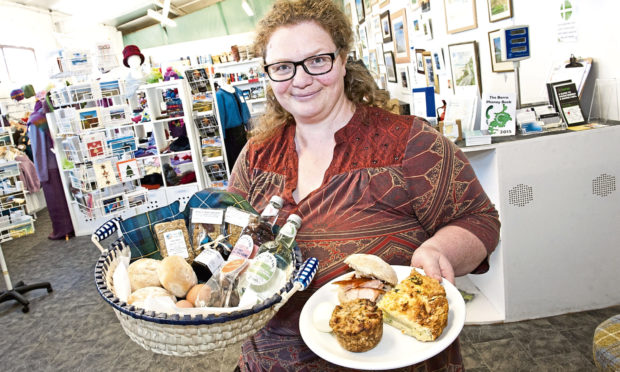 Each week, we ask small businesses key questions. Here we speak to Sarah Maclean, founder and manager of community hub Bùth Bharraigh on Barra
How and why did you start in business?
I moved to Barra to take up a lottery-funded post with Citizens Advice. Falling in love with the island, I decided to settle and support myself by doing a host of jobs in a self-employed capacity.
I started running local markets as a volunteer and as these became ever more popular, I conducted a survey to find out what would make people buy more local produce. People said they wanted a shop in Castlebay, open throughout the week to both locals and visitors.
Through the local produce group I secured some money from Investing in Ideas. We started small, opening a cafe with a wee stall in Northbay Hall in the summer of 2012.
We then opened a Christmas shop in Castlebay and this led to our opening there permanently in early 2013 as a community-owned social business.
How did you get to where you are today?
Bùth Bharraigh has many strings to its bow. It provides a powerful outlet for local producers and it sells wholefoods, books and arts and crafts materials. It is also a visitor information centre and Hebridean Way pit stop, where cyclists and walkers can rest, refuel and restock. It has a laundrette, provides bike hire, teas and coffees and free wifi, while it is also home to Barra Bunting – Google it.
This has all been achieved through a lot of hard work and long hours, given freely by me and many others.
Who helped you?
My husband Neil Paul, a fisherman, is a rock, while the oldest of our two children, Anna, has started to help in the shop, which I'm delighted about.
The council's environmental health officers have been very helpful, inspecting numerous producers' kitchens to allow us to sell their produce and also giving advice on labelling.
Highlands and Islands Enterprise provided a small grant to buy equipment at the start, while Firstport's Launch Me programme and Hisez have provided ongoing training and support.
We have just joined the Federation of Small Businesses and it has already been useful, providing a great safety net in hard times like these.
Most of all, the directors, community and producers have been incredibly supportive.
What has been your biggest mistake?
Not getting my work-life balance right. It's too easy to get sucked in.
What is your greatest achievement?
Getting the shop to the stage it's at now; a great year-round local community hub. We also provide opportunities for so many local people – incomes, volunteering opportunities and training.
If you were in power in government, what would you change?
If there's one thing we've learnt from the Covid-19 crisis, it's the importance of our NHS and support services. They must not be forgotten when the crisis passes.
What do you still hope to achieve?
Owning our own premises and developing even more services that meet the needs of residents and visitors.
We are currently going through the asset transfer process for our site and have great plans for its transformation.
However, the Covid-19 crisis threatens everything.
Barra is highly seasonal and if we don't make our money in the tourist season from May to September, we will struggle for the rest of the year. The lockdown is eating into this time.
What do you do to relax?
I love to do crafts, cook and bake – and need more time to do it.
What are you currently reading, listening to or glued to on the TV?
I enjoy comedy or a good film – anything for a bit of light relief at the moment.
What do you waste your money on?
Craft supplies, though it's not a waste.
How would your friends describe you?
Hard-working, positive and fun, I hope
What would your enemies say about you?
I don't know but you can't please all of the people all of the time. All you can do is share the vision and be as inclusive as possible.
What do you drive and dream of driving?
Getting from A to B is all that matters. Not that a car's much use at the moment.