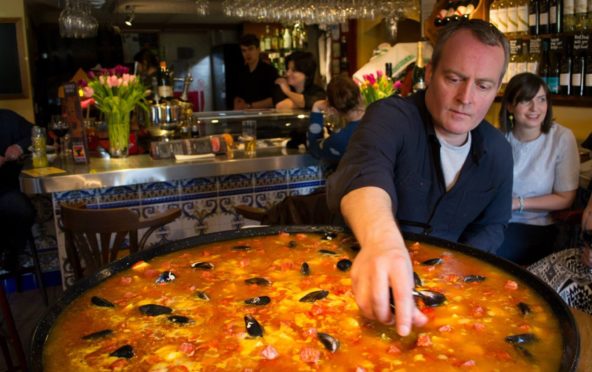 Each week we ask small businesses key questions. Here we speak to restaurateur Duncan Chisholm, owner of La Tortilla Asesina in Inverness
How and why did you start in business?
The son of a kiltmaker, I grew up immersed in the family business – Chisholms Highland Dress, of Castle Street in Inverness.
It was exciting, gave me a sense of purpose and, ultimately, led to me setting up on my own.
I worked in retail management in London for about 10 years, with the intention of bringing this training into the family business.
Sadly, I wasn't able to join the family business in the end, but I returned to Inverness anyway and took a job as the manager of a fashion retail shop in the Eastgate Centre.
My inevitable move to start my own business came after a big motorbike tour of Spain.
I loved the country and its wonderful tapas bar dining culture, and decided to introduce this new style of dining to Scotland, where it would doubtless take off like wildfire.
How did you get to where you are today?
Well, of course tapas bars haven't taken off. I had entered a niche market and it was going to be a long, hard road.
It took a while to become profitable and I nearly went bankrupt during the credit crunch, but here we are in fine form after 17 years, with a restaurant and takeaway service – and thinking about expansion.
Who helped you?
One of my first employers was Sir Tom Hunter, and I must have been one of his first employees, selling his sports shoes in his early days. I used to call his house with my figures at the end of the week, often giving them to his dad. There was always something very positive and energetic about Tom.
I also worked for a shoe company for 11 years or so, thanks to a great relationship with the company owner, Peter McDermott, and his family. Peter's company grew to be a big player in the shoe world and I learned a lot.
My father introduced me to the Federation of Small Businesses as soon as I started my restaurant, and it has helped me enormously.
What has been your biggest mistake?
Placing too much trust in solicitors.
What is your greatest achievement?
My beautiful daughter.Then it's endurance – it's really hard to establish a restaurant and it's been a struggle, but we're still here and I'm really proud.
If you were in power in government, what would you change?
I would change government's relationship with business, enhancing Scotland's reputation for excellence internationally by setting clear operating standards and policing them to ensure compliance.
I would also ensure that Scotland demonstrates equality and fairness at every level, particularly with family law, and does more to provide affordable housing for all.
What do you still hope to achieve?
I feel my best days still lie ahead of me. A recent development has been my weekly online conversations using live feeds to give paella cooking demonstrations. I cook paellas in front of the camera, while interviewing guests from local businesses and organisations.
Since lockdown I've been posting videos on Facebook, where thousands of people see them, and donating paellas to staff at Raigmore Hospital.
What do you do to relax?
I thrive on health and fitness, but if I want to relax, it's a night in cooking for a friend, while playing loud music and drinking a nice wine.
What are you currently reading, listening to or glued to on the TV?
Rich Roll on YouTube or podcasts. He has a similar outlook on life to me and I love the highbrow guests he has on to discuss healthy living.
What do you waste your money on?
Solicitors.
How would your friends describe you?
Unique, funny, true to myself, a free thinker and a good friend – I hope.
What would your enemies say about you?
A few enemies are inevitable – it's a natural by-product of standing up for what you believe in. I only hope my enemies respect me.
What do you drive and dream of driving?
I'm into motorbikes, not cars, and have ridden a Harley Davidson Heritage Softail on some huge tours. I was going to ride a BMW around Australia, but I have a three-year-old daughter now and dream of taking her touring in a campervan instead.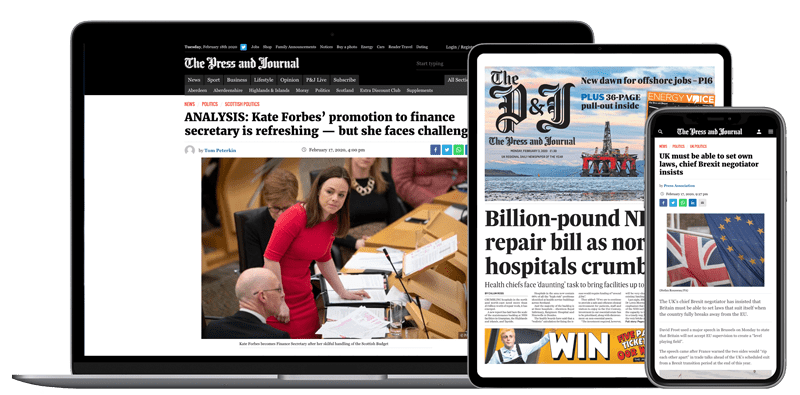 Help support quality local journalism … become a digital subscriber to The Press and Journal
For as little as £5.99 a month you can access all of our content, including Premium articles.
Subscribe