Lochaber bed and breakfast owners Phill and Carmen Beale have turned to crowdfunding as a means of rescuing their business after income dried up during lockdown.
In common with tourism operators throughout the UK, the Beales cannot wait to open their doors to visitors again.
But it may be some time before holidays are back on the agenda for staycationers, let alone customers from overseas.
Mr and Mrs Beale set a target of raising £20,000 through the Crowdfunder website, and with four days to go more than £15,000 has been raked in from "investors" in exchange for vouchers which can be redeemed on future visits.
Pledges of more than £10 can be set against the cost of bookings until the end of 2023, while those of more than £50 can be exchanged for up to 150% of their value.
Mr Beale said he and his wife were "overwhelmed by the response" to date but also ready to refund all the money if their fundraising target is not reached.
Covid-19 has cast an even bigger shadow over their Guisachan Guesthouse, on Alma Road, Fort William, than nearby Ben Nevis.
The couple moved to Lochaber four years ago, giving up jobs in the south of England for a new life in the Highlands.
Mr Beale is a keen landscape photographer and the move allowed him to be close to the scenery he loves to capture.
He said: "We have invested heavily in the building and business, and sought to provide our guests with a comfortable and enjoyable stay in this wonderful location.
"In a usual summer season we employ about 10 local people to help us run the business, from waiting staff and housekeepers to reception staff."
Summer bookings were "looking very healthy" before Covid-19 wiped out business overnight from March 22, he said, adding: "We were gearing up for another incredibly busy and rewarding season.
"Over the space of a few weeks we saw book-ings for the summer begin to evaporate. We lost 100% of our income for April and May alone. Even if we do reopen this summer, business will be a fraction of what we would normally expect."
Four permanent staff have been furloughed and the couple's bank has offered a payment holiday on their mortgage.
Mr Beale, who has been using some of his enforced spare time to carry out DIY on the 17-bedroom guesthouse, said: "While this helps our immediate cash-flow, what we owe will continue to increase and we may have to remortgage to offset our losses.
"Unfortunately, our business insurance doesn't cover us for this pandemic," added Mr Beale.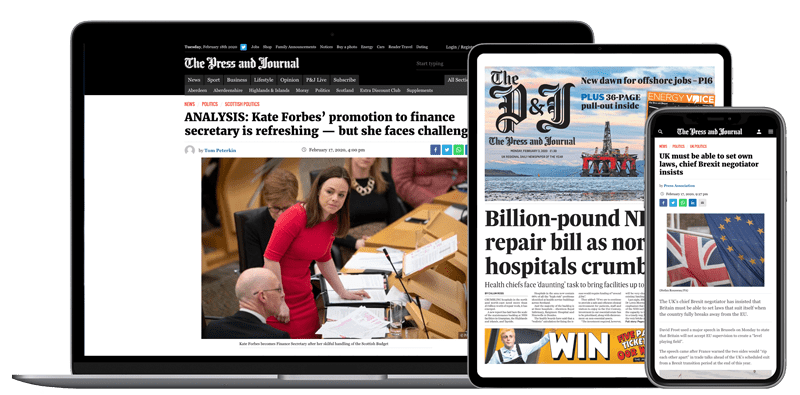 Help support quality local journalism … become a digital subscriber to The Press and Journal
For as little as £5.99 a month you can access all of our content, including Premium articles.
Subscribe