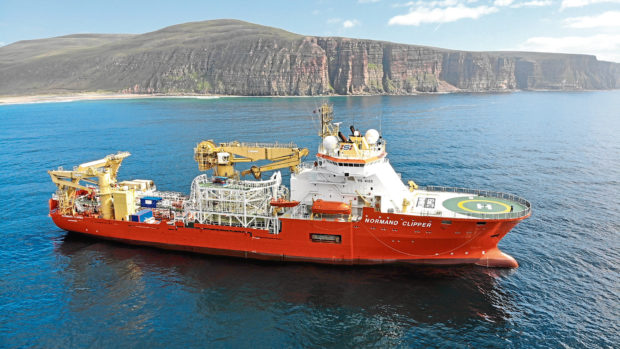 Power firm Scottish and Southern Electricity Networks (SSEN) has said it has made "significant progress" this month on a £30 million project to replace one of the two underwater electricity distribution cables connecting Orkney to mainland Scotland.
Two specialist vessels, the Normand Clipper and Global Symphony, have been working between Murkle Bay, near Thurso, and Rackwick Bay, on the island of Hoy, to install and bury the new line.
SSEN said the project had reached a "major milestone," with land-based work starting on Hoy to replace more than four miles of overhead power lines with underground cable.
The work is being carried out by the project's principal contractor, McGowan Environmental Engineering, of Aviemore.
A bulk cargo vessel was chartered to deliver 5,000 tonnes of high-specification sand to Lyness harbour, while almost 30 items of equipment and vehicles were shipped there from Gills Bay, in Caithness, by Pentland Ferries.
SSEN customer operations director Mark Rough said: "The Pentland Firth East projects is one of the single biggest standalone projects for our teams, with £30m investment critical to ensuring long-term security of supply to the islands. We're pleased the project is progressing well, with cable installation and burial operations complete and our land works well under way."
McGowan director Derek Mackay said the company was working with a number of local firms on the project, which is due to be completed by November.