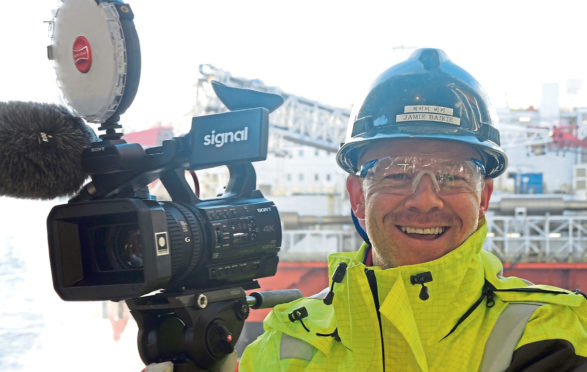 Each week, we ask small businesses key questions. Here we speak to Jamie Baikie, who owns Aberdeen-based corporate film and animation specialist Signal
How and why did you start in business?
It was time to take my skills and knowledge, and be a master of my own destiny. I was frustrated working for someone else, not seeing the rewards from the effort I was putting in.
I wanted to revolutionise corporate video and animation production in Aberdeen, as competitor analysis showed us there was a high demand for good- quality, cost-effective creative content. That was almost 10 years ago and it's no different today.
It's really exciting and at the same time it can be terrifying to run your own business, but that's what gets you out of bed.
Every communication challenge is unique, but nothing touches hearts and minds better than film. The moving image's ability to inform, entertain and influence makes it an extremely effective tool.
There is no doubt many of us are feeling the squeeze just now, due to the pandemic. It will test us, possibly to breaking point, but we don't plan to stand still and have recently rebranded the company, and will be pushing our marketing efforts and story further.
Having fun is an important part of our culture – this makes us and our clients more positive and productive, delivering rewarding experiences and results.
How did you get to where you are today?
I knew what I wanted to do from the age of 13. I picked up a camera and, 30 years later, still love it. I started as a trainee at 16 and worked my way up from the very bottom.
This was when VHS was still commonplace, and DVD or email didn't exist. I didn't even have a computer in my first job.
I worked for two local firms before starting my own company and have been fortunate to film all over the world in some very interesting places, from the Arctic Circle to the Omani desert.
I've even done the conga with Russians in a bar in Siberia – you only live once.
I don't have any formal training in business management. Like many business owners, I have found it can be a steep learning curve. You must keep learning and adapting as you go.
Who helped you?
My fellow director and friend of more than 20 years, Neil McKechnie, is the calmest, most sensible person I know. He has been so supportive and helped keep me focused.
I'm new to the Federation of Small Businesses (FSB), but have been really impressed with the support network and knowledge it has offered.
What has been your biggest mistake?
Not having the confidence to believe I can do it. We are all capable of much more than we realise. I've learned to believe in myself more, and having FSB support can make a big difference.
What is your greatest achievement?
We've won countless international awards for our work. It's a wonderful morale booster to be recognised for excellence in our field.
If you were in power in government, what would you change?
I would overhaul the welfare system and end homelessness.
The pandemic has highlighted so many of the inequalities we have in our society, and now is the time to take action.
What do you still hope to achieve?
To grow the business even further.
What do you do to relax?
I love cycling and listening to music. I also love watching TV and reading a good crime thriller.
What are you currently reading, listening to or glued to on the TV?
Schitt's Creek, Snowpiercer and John Grisham books. I loved watching Chernobyl.
I have an eclectic taste in music as I used to be a DJ in my teenage years. My first gig was in the sergeants' mess at the Gordon Barracks in Aberdeen aged 13. It took me a few hours to drink my first pint – I looked older than I was.
What do you waste your money on?
I love a meal out and have a passion for gin. I'm moving from a flat to a four-bedroom home, and I expect that will eat up some cash.
How would your friends describe you?
I don't know how to switch off. I'm dedicated, passionate and focused.
What would your enemies say about you?
I have enemies?
What do you drive and dream of driving?
I own a BMW X3 and am working towards driving an Aston Martin, ideally along the Amalfi coast, in my retirement.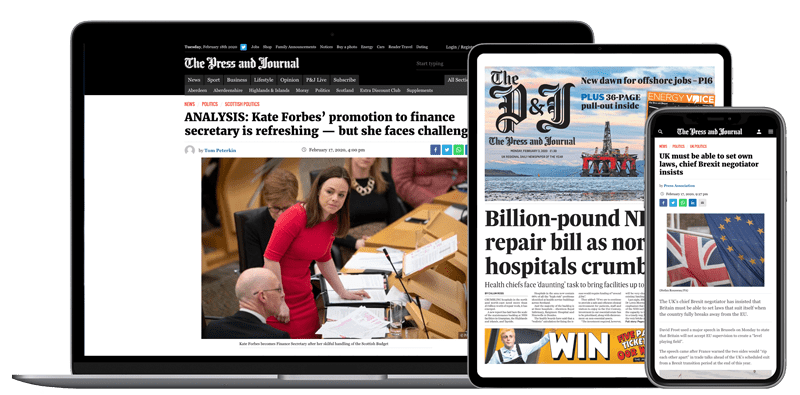 Help support quality local journalism … become a digital subscriber to The Press and Journal
For as little as £5.99 a month you can access all of our content, including Premium articles.
Subscribe