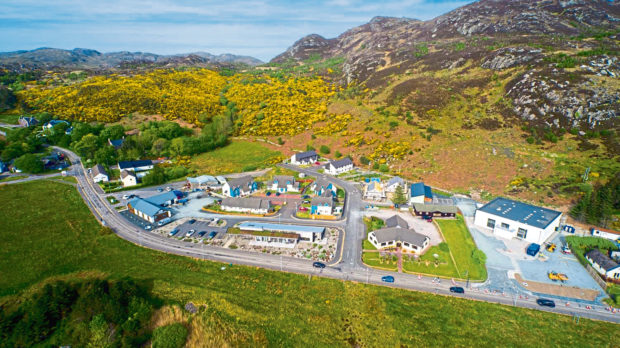 A pre-pandemic rise in demand for houses in remote parts of Scotland is expected to accelerate as people newly able to work from home look to swap urban living for rural lifestyles, according to the head of a Highland-based housing organisation.
But Ronnie MacRae, chief executive of the Communities Housing Trust (CHT), warned "new solutions" were needed to keep community development going amid escalating building costs and financial challenges stemming from the Covid-19 crisis.
Mr MacRae's comments came as the social enterprise announced a rebranding from its former name, the Highlands Small Communities Housing Trust, to better reflect the work it carries out throughout Scotland.
He said: "We were seeing a big increase in demand from people wanting to move to more remote areas even before the global pandemic.
"Now, with people increasingly able to work from home or remotely, we think that demand is set to grow.
"But, at the same time, with potentially challenging economic times ahead, we are also working hard to look at new solutions to keep community development going in the face of increased construction costs and financial challenges."
Based in Inverness, where it was established in 1998, CHT has an impressive track record of supporting and delivering multi-use, multi-tenure and multi-partner developments for community groups throughout Scotland.
The not-for-profit organisation played an instrumental part in keeping development moving during the 2008 financial crash, when its activities across the north increased significantly.
Explaining its name change yesterday, Mr MacRae said: "There has been a massive increase in community-led development in Scotland in recent years, largely due to the Scottish Government's Scottish Land Fund and Rural and Islands Housing Fund, which has seen a large spike in the demand for our services.
"Increasingly, we felt groups – particularly beyond the Highland region – who really needed our support to better understand, present and ultimately meet their needs for additional affordable housing were missing out because they thought we were an organisation that only supported small rural Highland communities.
"Working collaboratively with Dumfries and Galloway Small Communities Housing Trust we are able to cover the whole of Scotland."
He added: "As a leading organisation nationally in the sector, with offices in Inverness, Oban and Perth, we believe Communities Housing Trust better reflects who we are and what we do."