 North-east boatbuilder Macduff Shipyards has been given a £3.3million boost, thanks to a major order from a Scottish salmon farmer for new feed barges and landing craft.
Scottish Sea Farms (SSF), which has sites across the Highlands and islands, said yesterday the boats were part of a £13million expansion.
The order covers four 150-tonne steel feed barges and two general purpose landing craft, each about 50 feet long.
Macduff managing director John Watt said the contract would be completed in the Macduff and Buckie yards.
"This type of project allows us to plan for the future," he said.
"It's good to be competitive and keep this type of work in Scotland.
"Macduff Shipyards has worked on refurbishing barges and vessels for Scottish Sea Farms for many years but this is the first time that new barges have been built at the yard."
Two barges are due to be delivered by the end of 2014, with a further two and the two landing craft next year.
SSF managing director Jim Gallagher said: "This latest contract is part of our £13million planned investment programme for new site activity.
"We are looking to spend as much of this money with Scottish firms as we can.
"Two of these vessels are destined for our new sites in Orkney and Kishorn, where we are creating at least 10 new jobs and fresh opportunities for trainees and apprenticeships.
"The others are upgrades for our existing sites and mainland operations."
Fisheries Secretary Richard Lochhead, who was at the contract signing, said: "I very much welcome this deal between one of Scotland's most renowned ship-building companies and one of our premier salmon producers.
"It will undoubtedly bring economic benefits to the local communities in Macduff and Buckie as well as helping to strengthen the future of Scottish Sea Farms, one of the many success stories within our food and drink industry."
SSF was established in 1974 and currently has 380 employees.
The Norwegian-owned company produces more than 27,000 tonnes of salmon a year and has annual turnover in excess of £110million.
Macduff was founded in 1940 as John Watt and Sons by the grandfather of its current boss.
Last year, it struck a deal to buy some assets of historic Buckie Shipyard after it sank into administration and left 74 people out of work.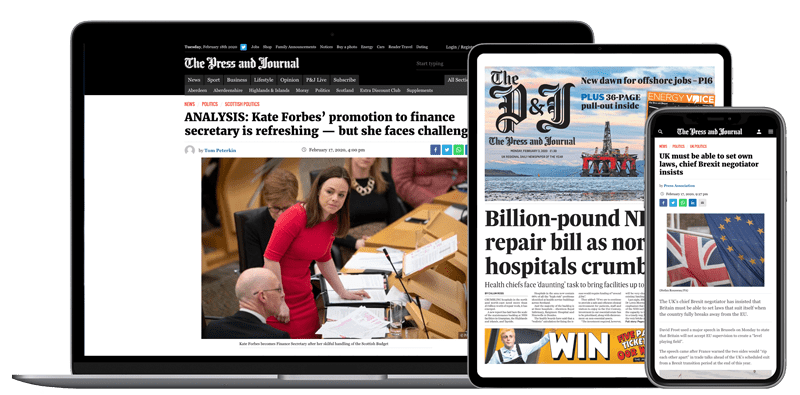 Help support quality local journalism … become a digital subscriber to The Press and Journal
For as little as £5.99 a month you can access all of our content, including Premium articles.
Subscribe