Inverness Airport keeps customers happy but passengers using Aberdeen International Airport (AIA) are less pleased about what it has to offer, according to a Which? survey.
The Highland capital's terminal is ranked fifth overall and the best in Scotland among 35 UK sites covered by the consumer group's latest airport customer satisfaction survey, with a 78% rating.
AIA is joint 21st, alongside Glasgow, on 57% after more than 7,000 Which? members were asked to rate airports for categories including pick-up and drop-off, seating provision, queues at security, passport control and baggage reclaim.
Inverness Airport general manager Graeme Bell said: "This survey certainly proves the old adage that small is beautiful.
"We are especially pleased at the huge rise in our overall customer score, up 10% on last year.
"This is a real vote of confidence in our hard-working customer service team."
He added: "We are looking forward to a busy period of growth in the coming months, with new flights to London City and Dublin, increased capacity to Manchester and the return of flights to Geneva.
"Our challenge is to ensure that as the airport continues to grow, we continue to maintain the same high standard of service that customers have come to expect from us."
AIA is notorious for its congestion at peak times, particularly around the baggage reclaim areas.
Passengers have also complained about long queues for taxis and having to walk through the wind and rain to their planes.
An AIA spokeswoman said: "In recent months and years we have seen unprecedented growth.
"With this growth comes some operational challenges which the team here are aware of, and work to address those issues is already underway.
"Our terminal transformation project is about to move into the official start of phase one in the coming months and will result in increased space and facilities for our passengers, while addressing concerns around baggage provision.
The spokeswoman said it was reassuring to see AIA's efforts to reduce queuing in areas such as security and check-in recognised in the Which? report, which gave London Southend and Robin Hood Doncaster Sheffield airports joint top ranking.
Bottom of the heap was London Luton, with a rating of just 37%, with Heathrow terminals one and three and Stansted joining it in the last four.
Which? said baggage reclaim was a top holiday gripe, with 37% of members naming it as one of their biggest airport frustrations.
Large airports fared particularly badly on this, with 14 of the 20 large sites surveyed scoring only two stars out of a maximum of five for queues at baggage reclaim.
Which? executive director Richard Lloyd said: "The message from travellers is clear – larger airports continue to let people down on the basics, from baggage reclaim to food outlets.
"People deserve an enjoyable break without any stress, so we want to hear from consumers so that we can help to stop the holiday hassles."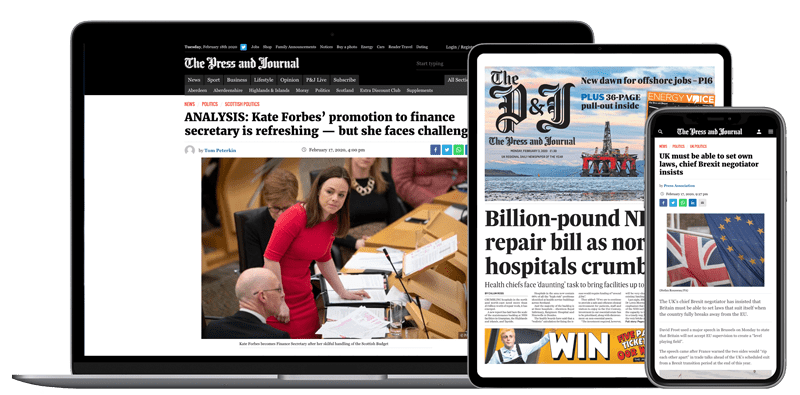 Help support quality local journalism … become a digital subscriber to The Press and Journal
For as little as £5.99 a month you can access all of our content, including Premium articles.
Subscribe