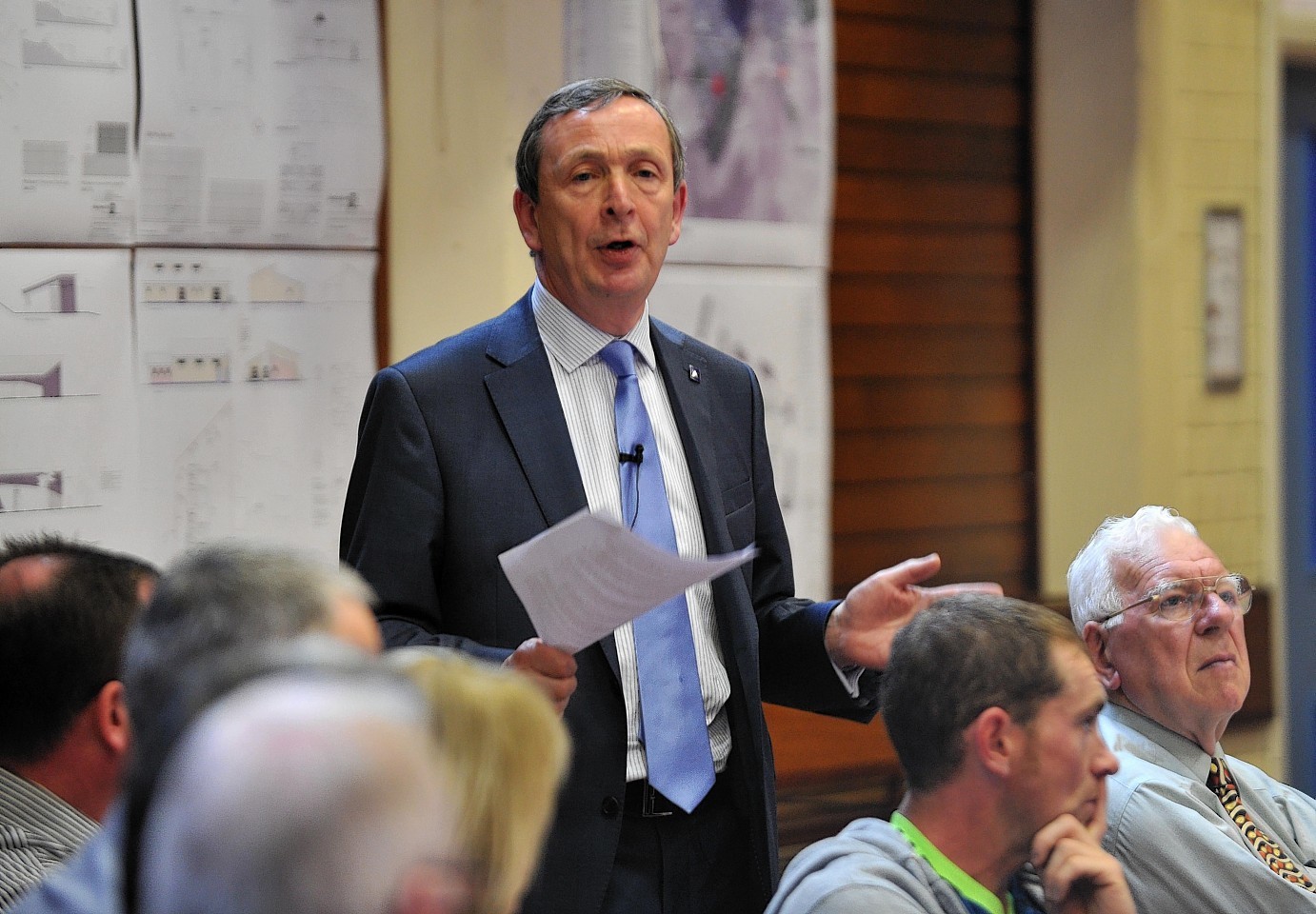 Aberdeenshire Council chief executive Colin Mackenzie announced his retirement yesterday, following a career in local government spanning more than four decades.
Here, he explains to Jamie Buchan what it meant to be at the helm of the local authority during one of its most challenging phases – and why he has decided not to make any plans for the future.
When former social worker Colin Mackenzie took the reins at Aberdeenshire Council, the region was bracing itself for a slew of job losses, service cuts and school closures.
Forced to make savings to balance the books amid a budget shortfall of almost £50million, there were fears the local authority workforce could be reduced by as much as 1,500.
Six years on and a major efficiency drive has resulted in savings of about £70million, leading to three years of budget underspend.
Jobs did go – but the 500 losses were far fewer than originally predicted – and a widespread school closure programme has so far been avoided.
For Mr Mackenzie, 64, the budget turnaround has been one of his council's greatest achievements.
"It was a good council when I took up this post and I hope that it is an even better council now," he said.
"Balancing the budget has always been a challenge, but we've achieved that over the years with the help of our staff and the people in our communities.
"We went to speak to the staff – because it's the staff who have been making the savings – and the communities and told them this is the situation we are facing, what would you like us to prioritise and what would you like us to stop doing?
"As we expected, the message was that they didn't want us to stop doing anything but overall, the response we got back from the people in our communities was absolutely encouraging."
Early tough decisions included a cost-cutting management shake-up which reduced the number of directors from six to five and the number of heads of service from 29 to 21.
It followed criticism that the council's top six officers were earning more than the combined salaries of the first minister and his cabinet.
A streamlined upper tier has contributed to the more balanced authority which exists today.
"We are a smaller council now but we still have 15,000 staff, so we're still talking about a very big team," said Mr Mackenzie.
The last six years haven't all been about budget reductions, he insisted.
"There has been a lot of other things happening as well of course," said Mr Mackenzie.
"We've delivered on creating new schools and care villages, for example. It has been about targeting our resources in the best way possible."
Mr Mackenzie began his career as a social worker for Dundee City Council in 1973, joining Grampian Regional Council as a social work manager in 1982.
In 2001, he was appointed director of housing and social work for Aberdeenshire Council and held the post until late 2008 when he took up the £137,000-a-year chief executive role.
He said he would look back on his career with some satisfaction.
"I've worked on local government now for 41 and a bit years and I think its time to hang up my boots and let someone else come in and take over what is an excellently performing council," he said.
"You don't just make decisions like this on the spur of the moment. It was actually a very difficult decision to have to make. The temptation is to stay on and on and on, but I felt that, given where I am in my life, this was the right time to go.
"I'll miss the job tremendously."
Mr Mackenzie, a married father-of-five, will stay on until his replacement is appointed. A recruitment drive began yesterday.
He added that he "didn't have a clue" how he was going to spend his retirement.
"I've spent the last few years being dictated by plans, so it will be nice not have any plans to think about for a while," he said.
"The important thing for me now is that I've got up to four months left working for this council as I have always done, all day, every day, seven days a week, until my successor is announced."
Last night, council leader Jim Gifford paid tribute to Mr Mackenzie's career.
"Colin has demonstrated inspirational leadership to the workforce and has continued to build on Aberdeenshire Council's excellent reputation for delivering vital public service and managing its finances robustly," he said.
"He has built a strong team of senior officers who are committed to public service delivery and are confident and capable in their abilities to transform the council to meet future challenges."
These challenges include a need to save at least £50million between 2015 and 2019.
Mr Gifford has already pledged that vital services will not be placed under threat as a result.