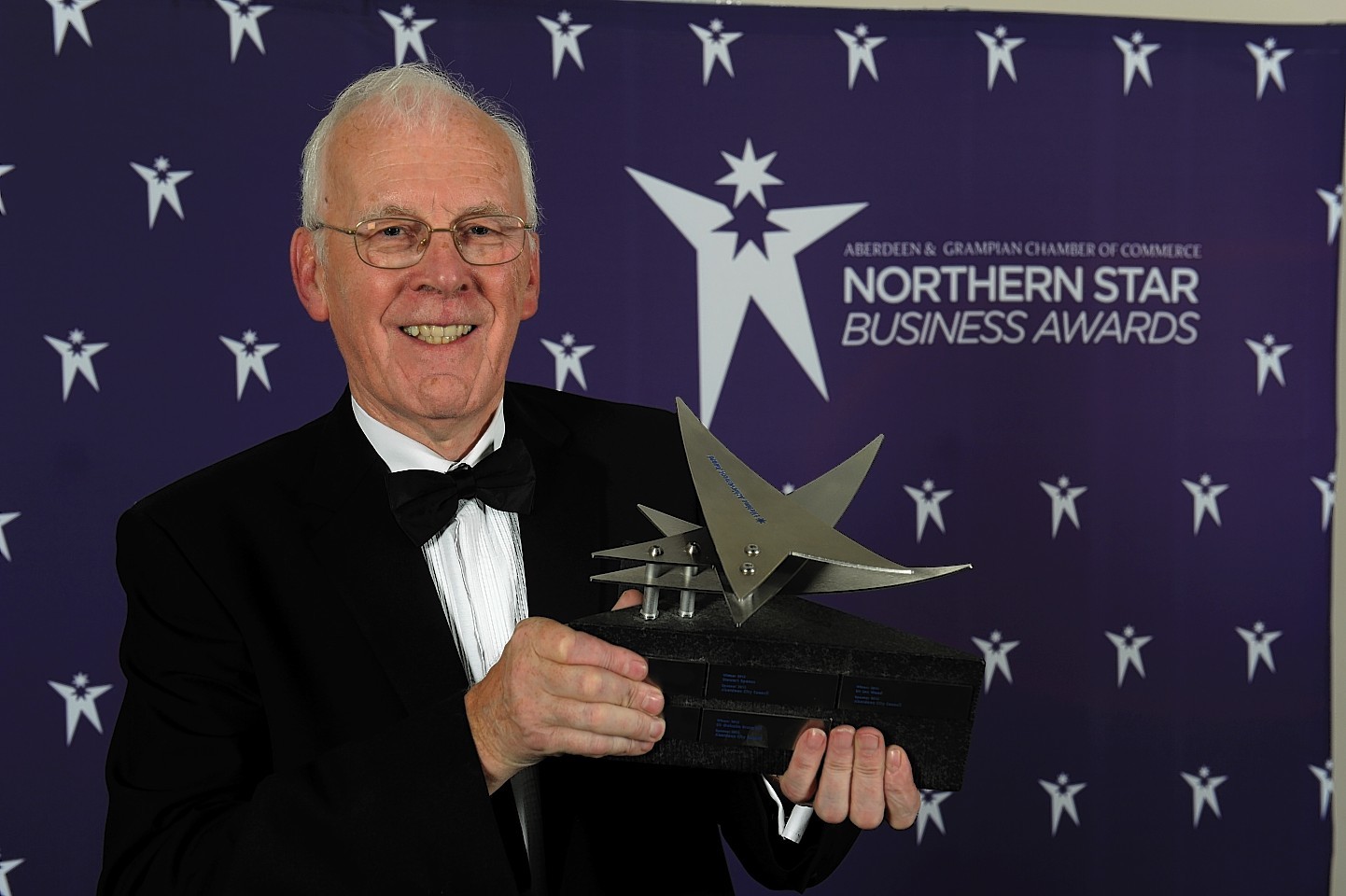 Veteran oil industry entrepreneur Sir Ian Wood was honoured with a lifetime achievement award last night.
The accolade came at the Northern Star Business Awards at Aberdeen Exhibition and Conference Centre, where 800 guests celebrated the achievements of some of the region's most successful companies and those who work for them.
Sir Ian's award recognised his work in building one of the largest oil supply chain companies in the country, as well as his public service and considerable charitable efforts through the Wood Family Trust.
It also honoured his recent leadership of influential government commissions – including his work on the Wood Review, in which the former Wood Group chairman set out his ideas for boosting investment in the UK North Sea.
Sir Ian, whose intervention in the independence debate caused controversy after he questioned Scottish Government figures about future oil output, was guest of honour at last night's event.
Organised by Aberdeen and Grampian Chamber of Commerce (AGCC) and now in their 11th year, the annual Northern Star gongs recognise companies for their exceptional accomplishments in areas ranging from energy to innovation, people development to customer service.
Entrants for the latest edition were whittled down to 38 finalists.
Aberdeen computer software specialist Inoapps won the overall business of the year award, impressing judges with a strategy which aims to deliver a £50million turnover next year through organic growth and acquisition.
AGCC chief executive Robert Collier said: "We are proud of the efforts of members and the contribution they make to the robust economy of our region, our enviable quality of life, and its bright future.
"The evening is an opportunity to take stock of the talent and success that abounds here in the city and shire, and celebrate their achievements in keeping us at the heart of a prosperous country."
Two business were recognised for their achievement in reaching the final stage of the British Chambers of Commerce (BCC)'s Chamber Awards.
Stork Technical Services is there after winning one of the competition's excellence innovation awards, while Inverurie's Elan Hair Design is in the final on account of its regional sustainability award.
The BCC winners will be announced at a dinner in London at the end of November.
Last night's event was hosted by newsreader Fiona Armstrong.
The winners in the 14 categories were as follows:
Lifetime achievement – Sir Ian Wood
Achievement in international business – Entier
Best campaign of the year – OilCareers.com
Commitment to innovative use of research and development – Plexus Ocean Systems
Commitment to people development – Bibby Offshore
Excellence in customer service – Pentagon Freight
Excellence in health and safety – Concerto Live Scotland
Outstanding contribution to society – Saltire Energy
Outstanding contribution to the energy sector – Bibby Offshore
Overall business of the year – Inoapps
Rising star – Andrew Ferguson, Eden Scott
Student placement – KCA Deutag
Business diversity – Glencraft (Aberdeen)
Green award – Elan Hair Design