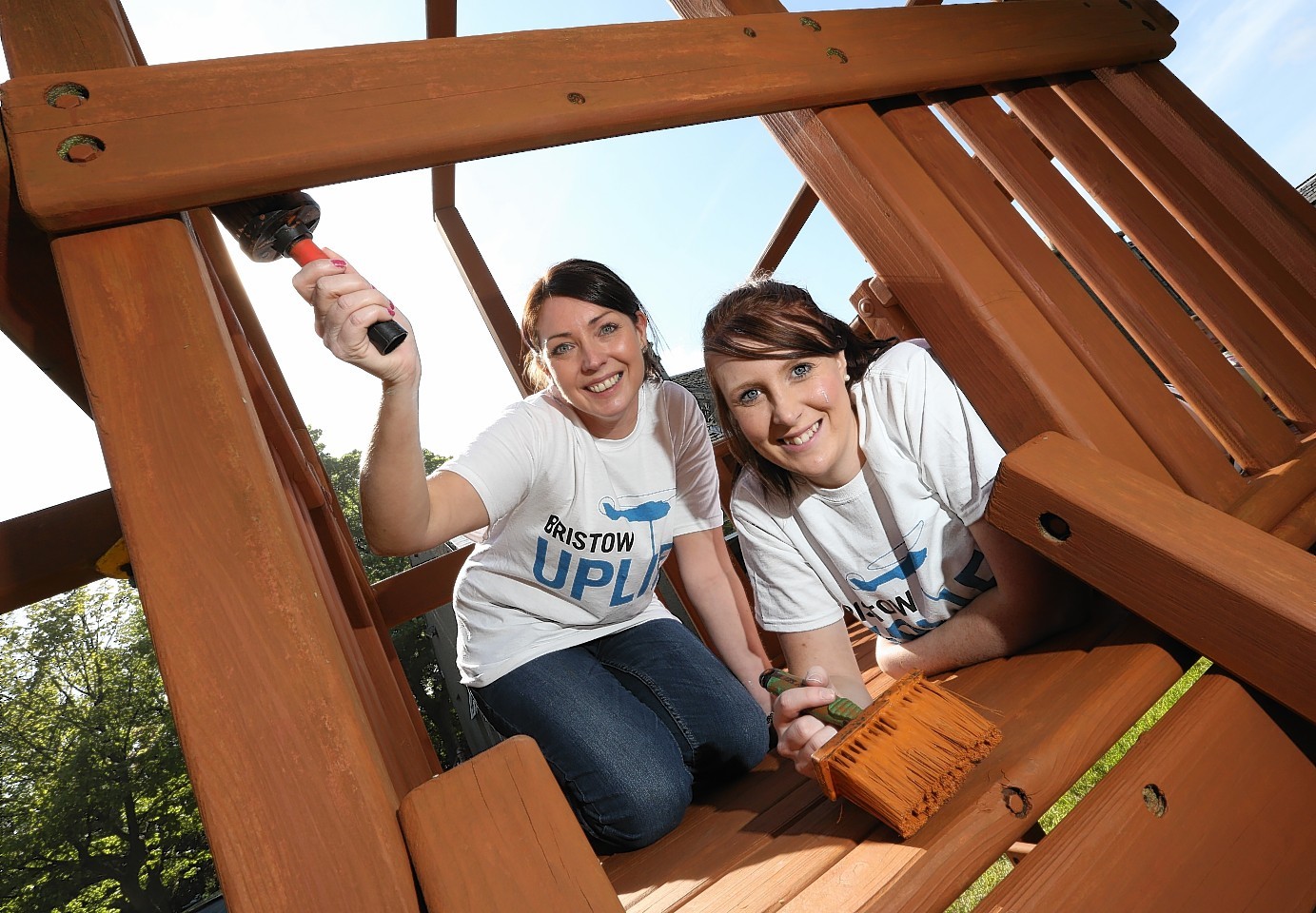 Bristow Helicopters' north-east workforce has had a busy year supporting good causes as part of the company's ongoing commitment to corporate social responsibility (CSR).
The North Sea helicopter operator's global Uplift scheme saw employees swap the airfield, hangar or office for volunteering at two Aberdeen sites run by Aberlour Child Care Trust, which helps vulnerable children and their families.
In May, Bristow staff got to work painting and glossing the Old Aberdeen centre's indoor nursery, hallway and kitchen.
They also cleaned and varnished or painted the outdoor play equipment, fences and an outhouse before meeting some of the families who benefit from the charity's work.
A couple of months later, Bristow volunteers visited Aberlour's Bucksburn centre, which provides respite care for disabled children.
They revamped a large garden area by staining the fences, decking and shed as well as building some garden furniture.
Bristow provided all the equipment, paints, stains and varnishes, and its staff have also donated toys and clothes.
For Bristow, CSR is built on the idea that business, employees and the general public are equal parts of a community. The firm focuses not only on giving financial support, but also creating relationships where staff and charities can learn from each other.
Alan Corbett, director of the company's European business unit, said: "Bristow supports the communities in which we operate across the globe and will continue to do so.
"These charities provide essential care and support to many Bristow employees and indeed the wider community.
"We know that often the most valuable support we can give is our own time and we are pleased to be able help out in such a practical way."
Bristow is also an ongoing supporter of the ARCHIE Foundation, which raises money for the Royal Aberdeen Children's Hospital, choosing it as the charity of choice for this year's Press and Journal Energy Ball.
The firm sponsored Luna, a dolphin sculpture, in the recent Wild Dolphin trail in aid of the ARCHIE Foundation, while Bristow Group president and chief executive Jonathan Baliff donated more than £3,000 on a visit to the hospital in July.
Bristow, a title sponsor of Saturday night's P&J Energy Ball at Aberdeen Exhibition and Conference Centre, also matches the fundraising efforts of its employees.
Senior passenger services officer Rhian Barnes raised more than £1,700 after she sacrificed 10 inches of hair for a wig made by the Little Princess Trust, which supports children suffering hair loss due to cancer treatments or alopecia.
Line training captain James Young collected £1,500 for the ARCHIE Foundation by cycling 170 miles in the Ride the North.