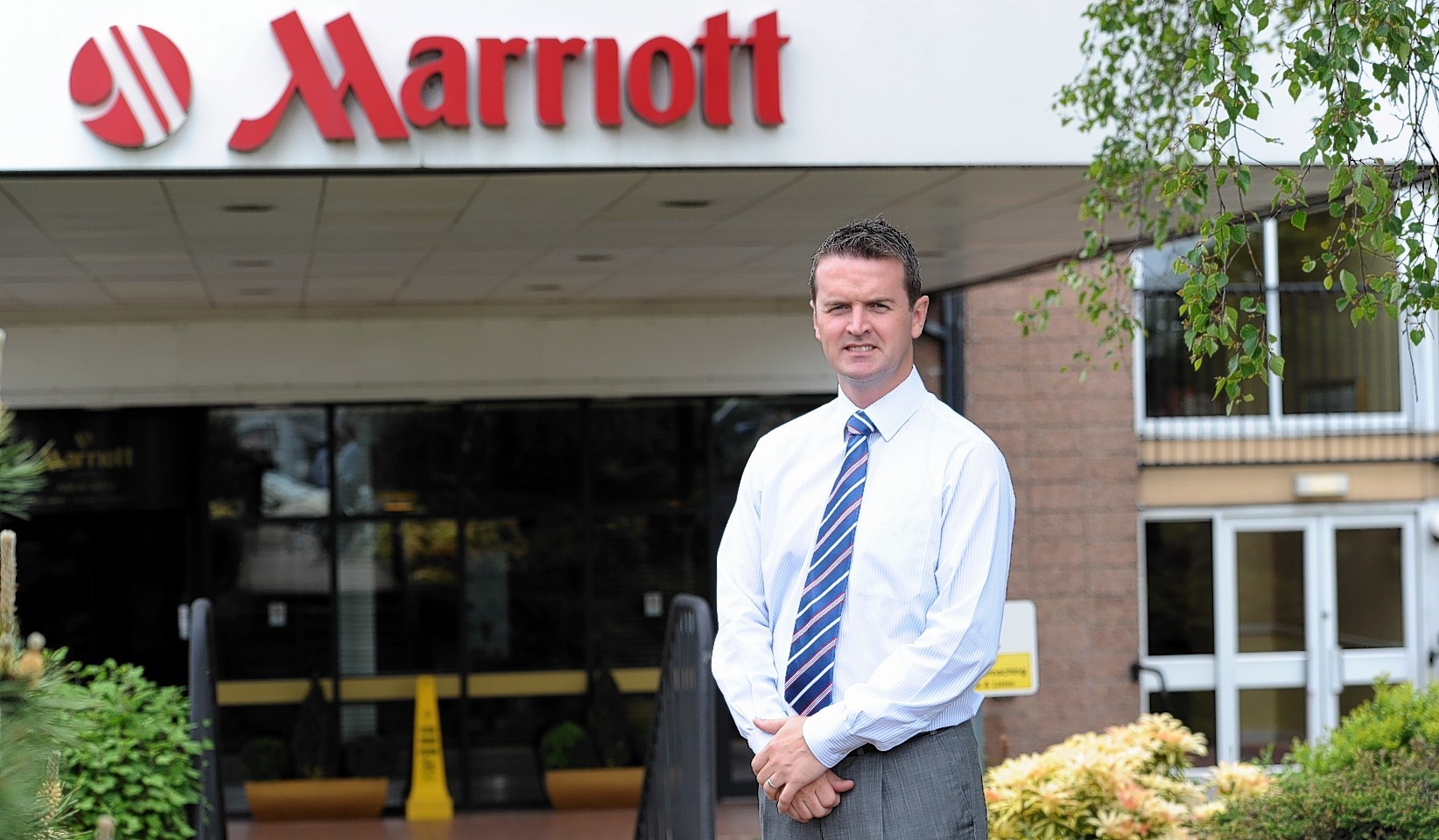 Hotels in and around Aberdeen can weather the storm of lower oil prices hitting the north-east economy and remain an attractive long-term investment.
That is the message of Aberdeen City and Shire Hotels' Association (Acsha) chairman Chris McGuinness as he steps down from the post he has held with the trade body for the past two years.
Mr McGuinness, general manager at the Marriott Hotel in Dyce, said: "The local economy has proved to be something of a rollercoaster.
"When I came into term in 2013 we were on the way up to the summit and we comfortably reached this in 2014, where we stayed for most of the year.
"Many hoteliers were experiencing record financial results driven by an incredibly buoyant and booming oil and gas industry, and partly by a restricted number of bedrooms available to service this demand.
"Great hotel occupancy and high revpar (revenue per available room) are key indicators that a whole city's economy is thriving. Indeed, during this time, Aberdeen was being described in the global media as one of Europe's super cities.
"But those of us who have operated in Aberdeen for a long time knew that this situation would not continue and the cyclical nature of the oil industry meant the rollercoaster would eventually make its way downwards."
The recent tumble in oil prices is having a negative impact on the city's hotels, with occupancy levels down "considerably" since the start of 2015, he said.
But he added: "While our figures are down from the dizzy heights of 2014, the city still has a mid-week occupancy level and revpar figures which are the envy of other UK cities. These figures are all relative."
"Those hoteliers who have experienced an Aberdeen slump before know that business will improve again but it will be against a backdrop of a different hotel scene in the city.
"In spite of the current slump, there is a flurry of hotel development underway and planned in the coming years.
"Hotel investors play the long game and they are showing their confidence in a revival of our economy.
"In 2009, the city and shire had approximately 3,600 three and four-star bedrooms. By the end of this year, this will have comfortably risen by over 40% to 5,100 rooms. This is significant growth by any measure.
"There are also plans in the pipeline to increase this further by 800 rooms by 2017, with new developments by brands including Crowne Plaza, Holiday Inn Express, Moxy and Residence Inn by Marriott."
He said there will "undoubtedly" be a levelling of room and revpar rates but Acsha and its 55-strong membership – 45 full and 10 associate members – were in "great shape".
"I am confident the new chairman will be taking on a positive and enthusiastic membership which is well-placed to tackle the economic challenges," he added.
An announcement about Acsha's new chairman is expected in the coming weeks.